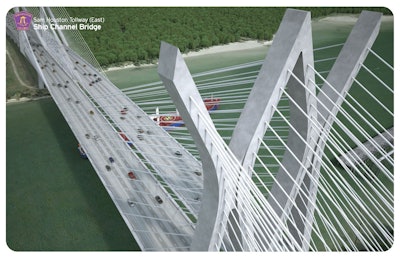 A new engineer has been chosen to lead the $962 million Sam Houston Tollway Ship Channel Bridge Replacement Project, winning a $24.9 million contract after the previous engineer was fired.
COWI North America will replace FIGG Bridge Engineers, which was partly blamed for the deadly collapse of a pedestrian bridge at Florida International University in 2018. After a National Transportation Safety Board report in October 2019 outlining the collapse's probable cause, FIGG was also removed from another major bridge project in Texas, the $803 million Harbor Bridge Replacement Project on U.S. 181.
FIGG has been suspended by the Federal Highway Administration from work involving federal funding. The company is fighting the suspension in federal court.
The ship channel bridge is the largest project in the history of the Harris County Toll Road Authority. On October 13, the Harris County Commissioners Court approved a $24,894,000 contract with COWI to take the lead engineering position for the main span between IH-10 and SH-225.
COWI has been a consultant on the ship channel bridge. The toll authority stopped work in January on the main pylons for the cable-stayed portion and hired COWI to review FIGG's design. A COWI report in March found "21 areas of significant concern," including wind and traffic loads and vertical load displacement on the piles. COWI and FIGG were reportedly working together to resolve the concerns. Then in July, the FHWA announced FIGG's suspension, and FIGG was fired from the project.
In August, FIGG's request for a temporary restraining order on the suspension was denied. Court records indicate the firm and the FHWA are negotiating an administrative settlement. The FHWA has called for FIGG to be debarred for 10 years from federally funded projects. FIGG has denied claims it was at fault in the pedestrian bridge collapse, which killed six and injured 10, instead blaming it on faulty construction.
The ship channel replacement bridge will be a cable-stayed span with 514-foot-high towers. The main span will be 1,320 feet long. Ship clearance will be 175 feet above water. Each of the two bridges will have four lanes and full shoulders on both sides. Construction began in 2018.