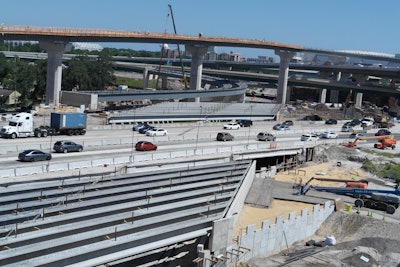 The I-4 Ultimate Project Art Endowment Committee—representatives of I-4 Mobility Partners, the Florida Department of Transportation (FDOT), and Skanska Granite Lane (SGL Constructors)—will provide $1.5 million to integrate public art installations into the project landscape along a 21-mile stretch of Interstate 4 to create a more scenic and cultural experience for motorists and pedestrians.
The grant money will be distributed to six municipalities—the City of Orlando ($400,000), Orange County ($225,000), the Town of Eatonville ($225,000), Winter Park ($150,000), Maitland ($200,000), and Altamonte Springs ($200,000). They will oversee the implementation of the public art program.
"The I-4 Ultimate is a legacy project that will leave its positive mark on Central Florida for years to come," said Paul Wabi, P.E., FDOT District Five Construction Program Manager, in a press release. "The art endowment program is a wonderful way to add to that legacy and enhance the community beyond where the rubber meets the road."
Qualified artists will be selected by the six municipalities to create art installations that capture the unique history and character of Central Florida and its communities.
"The art endowment program will reflect the individual character of the many diverse communities along the I-4 Ultimate project corridor," said William McGuinness, project director of SGL Constructors, in the press release. "While I-4 Ultimate is already considered a transformative project for the region, this program will further enhance the experience for commuters and visitors, and we are very proud to be part of this initiative."
Artists and interested parties can access more information at the I-4 Ultimate program page.