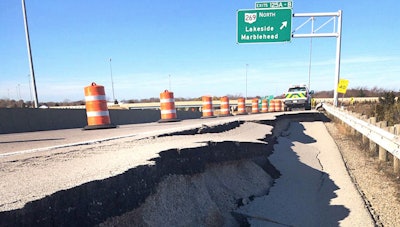 In Ohio, where road maintenance is falling behind, there's a big push on for a raise in the 28-cents-a gallon gas tax, which hasn't been increased since 2005.
Members of the Governor's Advisory Committee on Transportation Infrastructure on February 15 called for the hike while releasing their report on options for maintaining and enhancing Ohio's transportation infrastructure.
They didn't specify the amount of the increase.
But they and Gov. Mike DeWine maintain that as of July 1, 2019, the Ohio Department of Transportation (ODOT) will run out of money for new projects and fall behind on regular maintenance and preservation of existing roads, according to the governor's office.
ODOT is responsible for maintaining the fourth-largest transportation network in the nation, the governor's office says.
The budget shortfall is the result of what ODOT Director Jack Marchbanks calls "a perfect storm of adverse fiscal developments and spending."