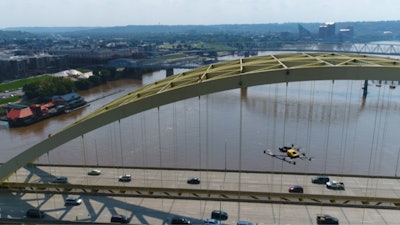 Intel announced that it is helping the Kentucky Transportation Cabinet and the Minnesota Department of Transportation improve bridge inspections by using drones to supplement manual inspections of the Daniel Carter Beard Bridge connecting Ohio and Kentucky and the Stone Arch Bridge in Minnesota. The drones are helping increase efficiency and produce more reliable data in less time and at a lower cost.
"With bridges worldwide experiencing undetected structural issues due to inefficient inspection and monitoring processes and unreliable data for rehabilitation, it is critical to address this real-world concern of transportation safety with impactful commercial drone applications," said Anil Nanduri, Intel vice president and general manager, drone team, in a press release. "Intel's comprehensive drone solutions not only improve speed and accuracy through increasing automation of existing workflows, but also reduce safety risks and providing engineers and transportation bureaus with more reliable, actionable insights for future planning and safety assessments."
With nearly 10 percent of the more than 600,000 bridges in the U.S. currently rated structurally deficient or obsolete, regular inspections are a necessity, but traditional inspection methods can be dangerous, costly, and time consuming, and the data is often unreliable. Drones, on the other hand, are said to offer a close-up look without putting workers in danger and collect and record invaluable data.
At the Daniel Carter Beard Bridge, drone technology enabled the eight-lane bridge to remain open and fully functional while the team inspected the bridge. The drone captured close to 2,500 high-resolution aerial images, generating 22GB of data that was uploaded into the Intel Insight Platform so that a 3D model could be generated to aid with analyses and visualization, including monitoring paint deterioration and cable stability of the bridge over time.
Drone technology helped expedite the annual inspection of the Stone Arch Bridge, a landmark pedestrian and bicycle bridge in Minneapolis. The increased automation was said to increase efficiency and reduce work hours by 28 percent, which resulted in a 40 percent savings in inspection costs — an estimated savings to taxpayers of $160,000 over the next 10 years.