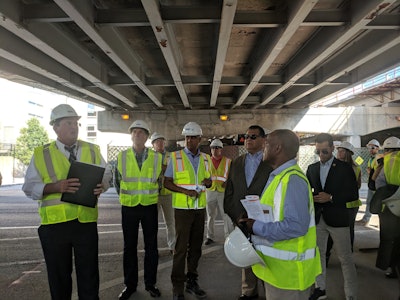 On September 17, the Transportation for Illinois Coalition (TFIC) hosted a second tour for nine legislators to learn more about transportation infrastructure in Chicago, the Illinois Association of Aggregates Producers (IAAP) reports in its Update newsletter.
The legislators — Senators Marty Sandoval, Melinda Bush, and Chuck Weaver; as well as Representatives Marcus Evans, David Olsen, Mike Zalewski, Margo McDermed, Teri Bryant, and Tim Butler — are members of the Illinois General Assembly who have made a commitment to work towards adequate and sustainable funding for the state's transportation infrastructure.
The tour began at Parsons Engineering, where the legislators learned about the local economic impact of engineering projects, and then featured to a Metra tour to highlight the agency's aging infrastructure. Following the Metra tour, legislators rode a CTA train to the Circle Interchange where they witnessed, firsthand, old infrastructure coming out and new infrastructure going in.
TFIC hosted a similar event in central Illinois in August.