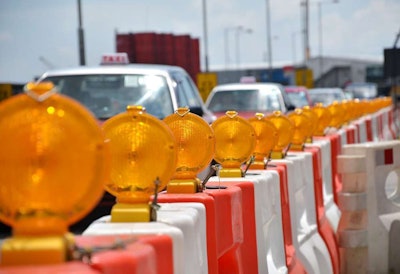 A $15.6 million resurfacing project on Interstate 81 in northern Schuylkill County, Pennsylvania, began August 19, the Republican Herald reports. The project is part of Gov. Tom Wolf's Resurface PA initiative, which speeds up repaving work on interstates and repairs potholes across the state.
"This past spring PennDOT (Pennsylvania Department of Transportation) received many inquiries about when this section of I-81 would get resurfaced, as it is riddled with potholes," Wolf said, according to the news agency. "I am glad to say the resurfacing is starting next week."
The project includes milling, patching, and paving I-81 between Exit 131 (Route 54) and the Luzerne County line, as well as new pavement markings and guide rail upgrades. The contractor will mill the existing roadway surface and repave it with asphalt.
Starting today and lasting until November, motorists should be alert for lane restrictions will be in place on northbound I-81 from 7 p.m. Sundays till noon Thursdays through the month of November 2018. The southbound lanes will see similar restrictions during the 2019 construction season.
New Enterprise Stone & Lime Co. Inc., the general contractor for the project, expects work to be completed by July 2019.