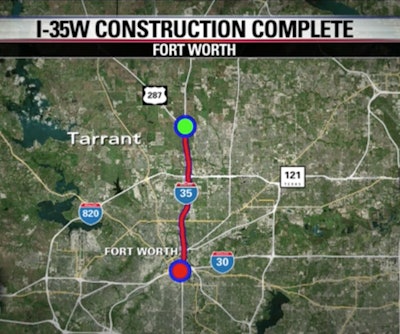 The Texas Department of Transportation has opened Interstate 35W between Fort Worth and U.S. Hwy. 287 to traffic after completing an eight-year, $1.6 billion project to expand the highway and add tolled express lanes, Fox 4 News reports.
The highway, which was 60 years old, was rebuilt using 21st-century design and safety standards, almost doubling its capacity.
"This is part of a much larger system," said Michael Morris with the North Central Texas Council of Governments, according to the news agency. "You're seeing a system of transportation projects that, basically, in the backbone of the Dallas-Fort Worth region connects Fort Worth over to the fast-growing Dallas suburbs, and not coincidentally connecting to DFW Airport, our largest economic generator."
"It gives people an option on how to get to work in a timely fashion," said Tarrant County Commissioner Gary Fickes, according to Fox 4. "Many of them have spent an hour to an hour and a half on these highways, and those days are over, we hope,"
Project officials said there are just a few more things to do before the project is fully completed. Three direct connectors are still being built, which are expected to open at the end of the year.