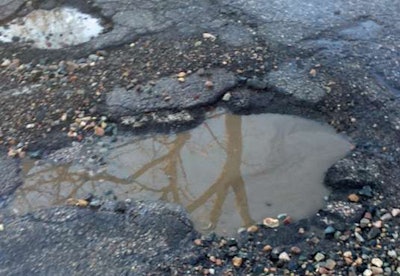 The Pittsburgh City Council agreed to shift more than $720,000 to the streets budget as a result of the 3,700 reported potholes caused by the freeze-thaw cycles this winter, bringing the city's resurfacing budget to nearly $16.8 million. The funds will repave approximately 67 miles, according to estimates from chief operations officer Guy Costa, with utility companies expected to resurface another 7 miles as part of their infrastructure work, the Pittsburgh Post-Gazette reports.
"The bottom line is, that amount of [extra] money will probably pave about 3 miles of roads," Mike Gable, the public works director, told the news agency, adding that the city should see about 90 miles of asphalt resurfacing each year to keep up with the potholes and road deterioration.
The city resurfaced 75 miles in 2017, which was up from 58 miles in 2016 and 54 miles in 2015. Hot-mix asphalt, which can be used in chillier weather, was expected to be available to city crews by March 15, 2018.
"I don't know that we can ever be 100 percent proficient in what needs to be done, but we can make every honest effort and attempt that we can," council member President Bruce Kraus said, according to the news outlet. The administration asked for approximately $800,000 in budget reallocations for paving, nearly all of which were approved by the council. "This is not an uncommon practice. It's putting stagnant dollars to good use," Kraus added.
Officials put together a list of streets that needed to be resurfaced, and that some larger resurfacing work should begin in March 2018, said Karina Ricks, director of the city Department of Mobility and Infrastructure, according to the news agency.
"In addition to resurfacing, we are going to expand work on sealing streets [making them last longer and reducing the chance for potholes to form] and partially resurface portions of streets where an accumulation of potholes has emerged [known as mechanical patching]. These efforts, together with the robust paving program, will add life to our streets."