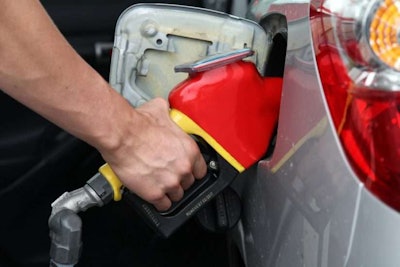 President Trump is backing a 25-cent federal gas tax increase to help pay for his infrastructure plan.
The infrastructure plan calls for an additional $200 billion in funding spread over 10 years. It also seeks to attract $1.3 trillion in state, local and private funding.
Trump posed the 25-cent increase February 14 during a meeting of bipartisan lawmakers, according to news reports.
The U.S. Chamber of Commerce proposed a similar increase in January in its report to increase federal funding for roads and bridges. The chamber proposal, which also received the backing of AAA and the American Truckers Association, would hike the tax 5 cents a year over five years. The chamber says that would bring in $394 billion within 10 years.
The 18.4-cent federal gas tax has not been increased since 1993. And from the reaction, so far, it appears there may not be enough support in Congress to make 2018 the year to raise it, especially as it heads into mid-term elections and after it enacted sweeping tax cuts in December, according to a Bloomberg report.
Opponents of a gas-tax increase say it will wipe out some of the tax-cut benefits and lead to increased costs for gas, which, in turn, would jack up prices for consumer goods.
Supporters, however, say that not fixing roads and bridge and other public infrastructure will cost Americans even more.
The chamber says a 25-cent hike would cost the average driver about $9 a month; while not raising it would lead to about $40 a month in increased maintenance and operating costs.
The public mood toward raising the gas tax seems to have shifted in the last few years, with more states adopting increases, including Republican-stronghold South Carolina. However, there is also a major push in California to repeal last year's state gas-tax increase, with polls showing voters split nearly 50-50.
Overall, Trump's infrastructure plan has been met with widespread criticism, particularly for mostly relying on state, local and private funding sources. Some are also concerned that the plan reverses the current highway funding formula of 80 percent federal and 20 percent state and local.
The proposal has received mixed reviews from some transportation-related organizations, which view it more of a starting point in the debate.
Following the release of Trump's infrastructure plan, the American Association of State Highway and Transportation Officials (AASHTO) renewed its call on Congress to focus on shoring up the nation's Highway Trust Fund to pay for roads and bridges. The fund is expected to become insolvent as early as 2021.
"State DOT leaders appreciate the president's ongoing interest in, and support for, increased federal investment in infrastructure," said Bud Wright, AASHTO executive director. "We hope the release of the Trump infrastructure plan can be a starting point for a robust conversation on how best to make the critical investments in surface transportation. AASHTO and its members stand ready to work with the Administration and Congress to address the long-term viability of the Highway Trust Fund and to speed the federal review and permitting process."