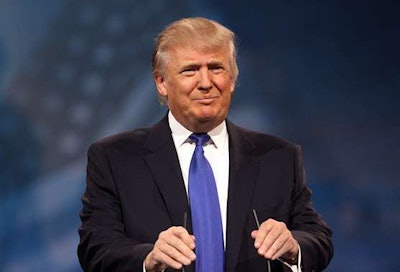 Industry groups on Monday voiced mixed reviews of President Donald Trump's newly released infrastructure plan. They expressed disappointment over the lack of a permanent solution for the solvency of the Highway Trust Fund and new worries over the proposed elimination of transportation construction grants.
Trump wants to use $200 billion in federal money to generate $1.5 trillion for fixing the nation's infrastructure by leveraging local and state tax dollars and private investment.
To read a "fact page" from the White House on the 55-page plan released Monday, click here:
Trump's plan relies heavily on private investments and funding from state and local governments. It involves six principles:
$200 billion in Federal funds to spur at least $1.5 trillion in infrastructure investments with partners at the state, local, tribal, and private level.
New investments will be made in rural America, which has been left behind for too long.
Decision making authority will be returned to state and local governments.
Regulatory barriers that needlessly get in the way of infrastructure projects will be removed.
Permitting for infrastructure projects will be streamlined and shortened.
America's workforce will be supported and strengthened.
The Transportation Construction Coalition (TCC), which represents 31 national associations and trade unions, issued a statement Monday saying the organization is glad to see the infrastructure package and budget proposal put forward, but also notes multiple concerns.
"The administration is wisely seeking to change the dialogue that has been largely absent in Washington for more than a decade and proposing something extra to current programs that aims to improve highway and transit infrastructure performance rather than the focus continuing on just maintaining current conditions," the TCC statement says.
"At the same time the administration seems to be taking two steps forward, it also takes one, or more, steps back. We oppose the simultaneous call for eliminating transit capital and other transportation construction grant programs put forward in the President's FY 2019 budget. The same budget points out the need for a permanent resolution to the Highway Trust Fund's fiscal instability, but falls short of proposing any meaningful solutions."
TCC is calling for Congress to deliver resources "to help improve, not just maintain," America's infrastructure. The coalition, established in 1996, is co-chaired by the American Road & Transportation Builders Association (ARTBA) and the Associated General Contractors of America
"There is no better way to do just that than by passing a package that includes a permanent, growing, user-based Highway Trust Fund revenue solution," the TCC statement says.
Some help for road industry, but not enough for HTF
And at the annual meeting of the National Asphalt Pavement Association (NAPA) in San Diego Monday, the audience applauded the release of the infrastructure plan and FY2019 budget proposal during a morning gathering attended by about 900 people.
"We don't know how much it is going to put into the asphalt world, but it will help immensely," James Roberts, CEO of Granite Construction in Watsonville, California, told NAPA members during a panel discussion on the state of the road construction industry.
However, he also points to the Highway Trust Fund shortfall, which was not fully funded in the latest tax reform, and the need for the industry to push for a permanent solution. "That's one of our big jobs as we go forward with an infrastructure plan; we need to get this fully funded."
From the Association of Equipment Manufacturers, President Dennis Slater issued a statement saying that while there are advantages to the Trump plan, it does not solve our nation's underlying infrastructure issues.
"Equipment manufacturers welcome the introduction of President Trump's infrastructure proposal today," says Slater. "It should serve as an important starting point for serious debate in Congress, given that an overwhelming majority of Americans wants for Washington to act on infrastructure this year.
The White House plan includes a number of important elements, Slater said, noting that equipment manufacturers applaud the "One Agency, One Decision" initiative to reduce permitting time on projects to two years.
They and other groups, including NAPA, applaud the request that Congress create designated funds to support rural infrastructure development and transformative infrastructure projects.
"The industry is also encouraged by the inclusion of a proposal to help train our manufacturing and construction workforce in charge of building America's infrastructure," Slater says.
"However, the Trump administration's proposal does not solve our nation's underlying infrastructure issues, including the solvency of the Highway Trust Fund and other programs to support our utility, water and aviation infrastructure.
"We hope that Congress will take up and build upon the Trump administration's infrastructure proposal on a bipartisan basis to help America reclaim its infrastructure advantage over our global competitors."
Concerns over local and state funding
Sunday in San Diego, during a reception for the NAPA annual meeting, some state DOT officials privately noted that it may be difficult for some states to raise those funds – especially if the funding split is reversed from 80 percent federal and 2o percent from the states, to become vice versa.
They question whether some states can generate enough private investment for the projects they need. They also expressed concerns that some rural areas and states may be left out of infrastructure funding.
Trump, in acknowledging that rural areas have been left behind, is calling in his newly released plan for these measures:
$50 billion of the $200 billion in direct federal funding will be devoted to a new Rural Infrastructure Program to rebuild and modernize infrastructure in rural America.
The bulk of the dollars in the Rural Infrastructure Program will be allocated to state governors, giving states the flexibility to prioritize their communities' needs.
The remaining funds will be distributed through rural performance grants to encourage the best use of taxpayer dollars.
Since the president's January 30 State of the Union address, many lawmakers from both sides of the aisle have also voiced doubt about whether there will be viable funding for the states – and the transportation and infrastructure improvements they need to repair and rebuild a crumbling infrastructure.
The president's plan for the federal government to provide $200 billion in direct investment is in the White House's budget proposal for fiscal 2019.
"Of the $200 billion, $100 billion will create an "Incentives Program to spur additional dedicated funds from States, localities, and the private sector," the White House says. According to the administration:
Applications for the Incentives Program will be evaluated on objective criteria, with creating additional infrastructure investment being the largest factor.
The Incentives Program will promote accountability, making federal funding conditional on projects meeting agreed upon milestones.
The Trump administration may call for offsetting the $200 billion by cutting other programs such as mass transit and the popular TIGER grants (Transportation Investment Generating Economic Recovery grants).
Since 2009, Congress has dedicated nearly $5.1 billion for eight rounds of TIGER grants to fund projects that have a significant impact on the nation, a region or a metropolitan area, according to the U.S. Department of Transportation.