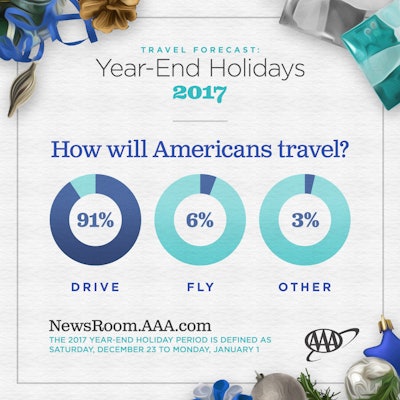 AAA is predicting this holiday season's travel volume will be one for the record books, with a 3.1 percent increase compared to last holiday season.
In all, 107.3 million Americans will travel between December 23 and January 1, AAA estimates.
It marks the ninth consecutive year of travel increases for the holidays.
Of the travelers, 97.4 million will hit the roads, despite higher gas prices. Some may incur travel times as much as three times longer than normal.
This December's national average price is $2.47 (Dec. 1-13), which is 28 cents more than last December, AAA says.
The top-10 travel destination spots are:
Orlando, Fla.
Anaheim, Calif.
Cancun, Mexico
Honolulu, Hawaii
Kahului (Maui), Hawaii
Montego Bay, Jamaica
Punta Cana, Dominican Republic
Miami, Fla.
Fort Lauderdale, Fla.
New York, N.Y.