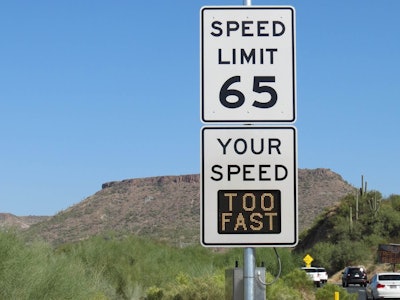 The Arizona Department of Transportation has gone digital with its speed-limit signs on Interstate 17 in the Black Canyon City area north of Phoenix.
The signs not only give the speed limit but display whether drivers are exceeding the speed limit. The signs display messages such as "too fast" or "slow down."
The signs are the result of a study that determined 40 percent of crashes on the road section between 2011 and 2015 were caused by drivers going too fast for conditions.
"The new speed-feedback signs serve as a safety tool in an area where crashes and other incidents, including disabled vehicles, can cause closures and lengthy delays along I-17's winding grade," ADOT says.
The three northbound I-17 speed-feedback signs are located near Table Mesa Road (milepost 236), Coldwater Road (milepost 245) and Bumble Bee Road (milepost 247). The southbound I-17 signs are located near Sunset Point Rest Area (milepost 251) and approaching curves on the downhill grade near Bumble Bee Road and Coldwater Road.
The signs are part of a $1.1 million I-17 safety project between New River and Camp Verde.