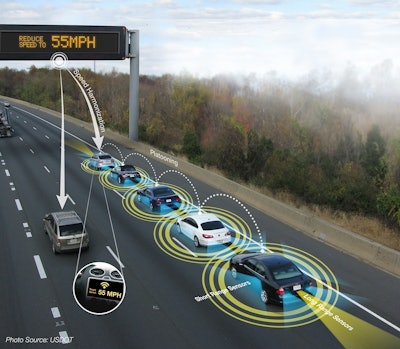 The Wyoming Department of Transportation is preparing to install vehicle-to-vehicle communication technology on some of its snow plows, patrol cars and other vehicles under a trial program to provide real-time traffic information to drivers on Interstate 80.
WYDOT says that it, along with the University of Wyoming and other project partners, including Sirius XM, tested the technology recently on a snow plow and patrol vehicle to show how they can communicate with each other during a collision warning, a distress notification, a construction zone notification and weather warnings.
For example, in a collision warning, the slower vehicle would send out a signal indicating its speed and direction, WYDOT says. Nearby drivers in vehicles equipped with the technology would be alerted to a possible crash.
"The forward collision warning would be beneficial in a low-visibility situation," says Ali Ragan, GIS/ITS project manager. "This could then help prevent a crash."
The technology not only communicates vehicle-to-vehicle, but can send data to roadside units connected to WYDOT's Transportation Management System, which can send out alerts. The roadside units also receive reports from WYDOT maintenance employees, and the system can receive information from other systems, such as weather stations.
Sirius XM's satellite system is assisting in sending the notifications to vehicles to fill any gaps not picked up by the roadside units.
Wyoming is one of three locations in the country testing the Connected Vehicle Pilot Deployment Program, funded by the U.S. Department of Transportation. The other locations are Tampa, Florida, and New York City.
"This technology will give us the ability to alert motorists of difficult situations before they encounter them," says Bill Panos, WYDOT director.
This winter, WYDOT plans to equip 100 of its vehicles with onboard communication devices and install about 75 roadside units on and around I-80. It plans to expand the devices to 300 commercial vehicles during spring and summer. Companies interested in participating in the pilot program can email WYDOT at dot-cv@wyo.gov or call 307-777-4231 or 307-777-2985.
After the test is completed, WYDOT and the USDOT will decide whether to proceed further with the technology.