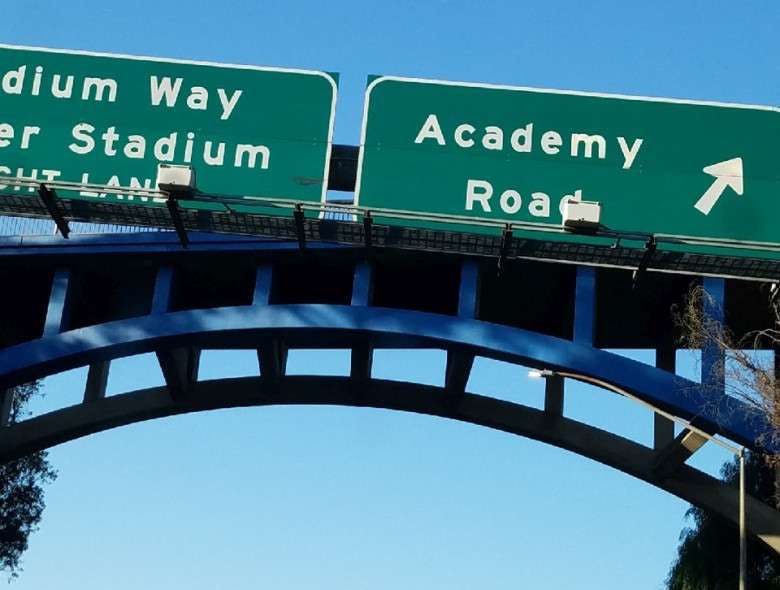 To honor the Los Angeles Dodgers winning the National League pennant and earning a spot in the 2017 World Series, California Department of Transportation (Caltrans) workers painted over the graffiti on the Park Row Overcrossing that spans the Stadium Way exit off of the 110 Freeway; it was painted Dodger blue, the Los Angeles Daily News reports.
Caltrans spokeswoman Lauren Wonder says the idea to paint it blue probably came from the Caltrans maintenance crews. "We took the opportunity to show some civic pride by painting it blue," Wonder told the news agency. "It's a fun homage to L.A."
According to Wonder, a worker in a basket had to be lowered from a truck on top of the overcrossing in order to paint it. "How the taggers do it is beyond me. It's really unsafe to try to climb around there and paint," Wonder told the news agency.
Because it is a historic parkway governed by the State Office of Historic Preservation regulations, Wonder told the news agency that Caltrans had to get special approval to paint the under-structure of the bridge. She hopes others will carry the "same kind of pride and enthusiasm and don't touch the blue — because we know the Dodgers are coming home."