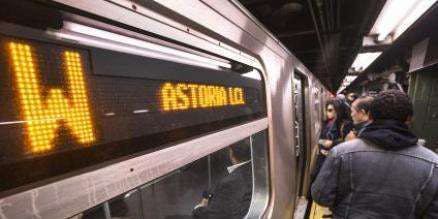 New York subway riders will be able to board the system without having to swipe a MetroCard as soon as 2019, under a new plan approved by the Metropolitan Transportation Authority board.
The MTA board has approved a contract to phase in a new fare system for bus and rail transit. The MetroCard, in use since 1994, will be phased out and replaced by mobile phone wallets, like Apple Pay, or contactless bank cards. Those who don't have or want to use a mobile phone or contactless bank card can buy and load contactless transit cards from vending machines.
The new fare system will begin to take effect in 2019, when 500 subway turnstiles and 600 buses will receive the necessary upgrades, according to MTA. The new system will be phased in gradually until 2023, after which MetroCards will no longer work.
"MetroCard will not be retired until the new system is fully tested and operational," MTA says.
Cubic Transportation Systems Inc. of San Diego won the $573 million contract to develop the system, which will be similar to one the company created for London's public transit system.
"The new account-based system will allow customers a variety of convenient self-service options to manage their account, including via the web and on mobile devices," MTA says.
The MTA says the new system will lower maintenance costs and help modernize the New York City public transportation.
"The move to a truly 21st century method of payment represents a critical step in our overall efforts at modernizing the subway system and improving service for all our customers," said MTA Chairman Joseph Lhota.