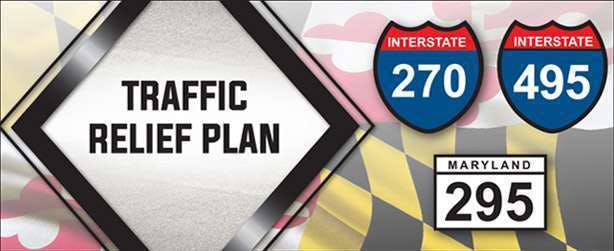 Maryland Gov. Larry Hogan has kicked off a $9 billion plan to add four new lanes each to some of the most congested roads in the country: Interstate 270, Interstate 495 (the Capital Beltway) and the Baltimore-Washington Parkway (MD 295).
The state will soon issue requests for information from developers to join what would become the largest proposed highway public-private partnership in North America, according to Hogan.
Under the proposed partnership, private developers would design, build, finance, operate and maintain new lanes on I-495 between the American Legion Bridge and the Woodrow Wilson Bridge and on I-270 between I-495 and I-70. The project will include express toll lanes on both highways and the Baltimore-Washington Parkway.
Adding tollways to the Baltimore-Washington Parkway will require the U.S. Department of Interior to turn over ownership of the roadway to the Maryland Transportation Authority, and Hogan directed the Maryland Department of Transportation to initiate that process.
Calling it the Traffic Relief Plan, Hogan said the project "is critical to spurring increased economic development and restoring quality of life for countless Marylanders who have been negatively affected by years of traffic congestion."
The state has the second-longest commute time in the country, behind New York, according to the U.S. Census Bureau.