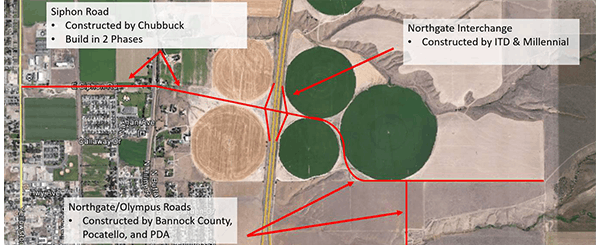 Work will begin this fall on one of Idaho's largest public-private partnerships, which will build a new interchange on Interstate 15 in the eastern part of the state and pave the way for 10,000 new homes, according to the Idaho Department of Transportation (IDT).
Representatives of the six-member partnership broke ground Sept. 14 on the Northgate Project between Pocatello and Chubbuck, which is expected to open up development access for a future master-planned community called Northgate. The $8 million project consists of the interchange, a bridge over I-15 and local road connectors. Along with new homes, the project is expected to bring a 1-million-square-foot technology park and retail stores.
Site work is planned for fall, with most construction beginning next spring.
The partnership consists of the cities of Pocatello and Chubbuck, Bannock County, the Pocatello Development Authority, the IDT and Millenial Development. Under the agreement, the private Millenial Development will pay $3.4 million upfront and the IDT kicks in $5 million.