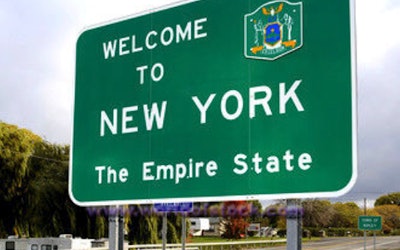 Gov. Andrew Cuomo has named Cathy Calhoun as acting commissioner of the New York State Department of Transportation (NYSDOT) and nominated Matthew Driscoll for executive director of the Thruway Authority.
Driscoll is the former NYSDOT commissioner and helped launch Cuomo's $100 billion, five-year plan to renew New York's infrastructure.
"Matthew Driscoll and Cathy Calhoun are both dedicated public servants who exemplify what it means to serve the people of New York, and I am proud they will continue their service in these new leadership positions," Cuomo says. "The Thruway Authority and Department of Transportation are critical to improving infrastructure in every corner of this state, and as they transition to their new roles, I look forward to working alongside these experienced leaders to ensure the safety and stability of New York infrastructure for generations to come."
Driscoll previously served as president and CEO of the New York State Environmental Facilities Corporation and has held a number of cabinet positions in Cuomo's administration, including co-chair of the New York State Storm Recovery Task Force, member of the Strategic Implementation Assessment Team to assist in the progress of the Regional Economic Development Council, and board member of the Financial Restructuring Board, which delivers targeted restructuring solutions to assist New York municipalities under fiscal stress. Before these positions, Driscoll twice served as mayor of Syracuse.
The Thruway board of directors will meet to name Matthew Driscoll acting executive director of the Thruway Authority. He will be nominated for official Senate confirmation in January.
Calhoun previously served as NYSDOT chief of staff at the Department of Transportation. She also has served as a Central New York representative for former Sen. Hillary Clinton and for former Gov. David Paterson in intergovernmental affairs.