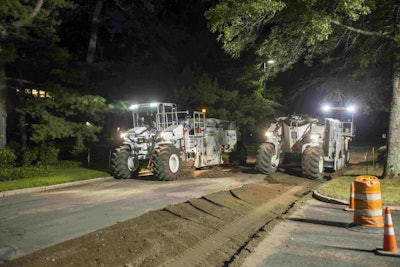 Roadtec has introduced its largest soil stabilizer-reclaimer with the new SX-8e, which has an operating weight of 82,000 pounds.
The machine is designed for road rehabilitation, cold recycling and soil stabilization. It can cut up to 20 inches deep and 100 inches wide. Cut depth can be set by the push of a button, and cutter speed is governed by a four-speed air-shift transmission. The cutter housing is fastened to the mainframe to provide strength and precision, and the cutter housing's variable geometry design achieves material gradation with each pass, the company says.
The SX-8's rotor is designed for milling and mixing the most resistant soils. And it is designed with high ground clearance to operate in all terrains. The machine is also designed to reduce the amount of dust traveling through the cooling system.
Other features include a 755-horsepower Tier 4i Caterpillar engine, a sealed cabin, joystick controls and four steering modes. The operator seat slides laterally and swings 90 degrees for achieving the right vantage point; the operator platform also slides 18 inches past the right of the machine for added visibility. The wheels are suspended by four independently controlled hydraulically adjustable leg assemblies that are bolted to the mainframe.