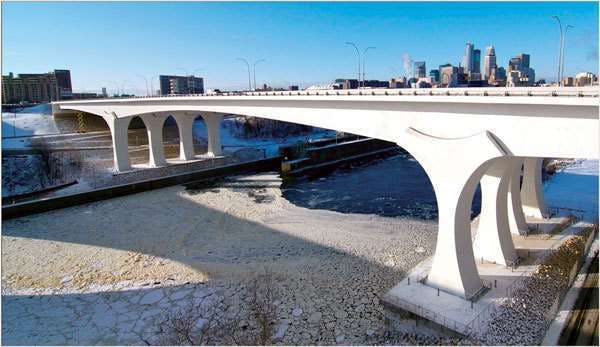 Today marks 10 years since the Interstate 35W St. Anthony Falls Bridge Collapse in Minneapolis that killed 13 and injured 145, and brought a heightened level of focus on the conditions of bridges in the U.S.
The bridge, which was 1,907 feet long and featured eight lanes spanning the Mississippi river, had a catastrophic failure in the main span of the deck truss, according to the National Transportation Safety Board report on the incident.
Due to this failure, 1,000 feet of the deck truss collapsed and 456 feet of the main span fell 108 feet to the river just after 6 p.m. on Aug. 1, 2007. Seventeen of the 111 vehicles that were on the section of bridge that collapsed were recovered from the river.
The bridge originally opened in 1967 and was constructed on a 458-foot steel arch to avoid placing piers in the water to reduce the impact of navigation on the river, according to the Minnesota Department of Transportation (MnDOT). The agency reports a 2004 traffic count showed there were 141,000 vehicles travelling on the structure each day.
After the collapse, then Transportation Secretary Mary Peters made available $5 million in emergency relief funds to help with the repairs. MnDOT and contractor work on the design-build project was completed in 339 days.
The department says the new structure has the following features:
100-year life span
10 lanes of traffic, five in each direction—two lanes wider than the former bridge
189 feet wide—the previous bridge was 113 ft wide
13 ft wide right shoulders and 14 ft wide left shoulders, the previous bridge had no shoulders
Light Rail Transport-ready which may help accommodate future transportation needs
MnDOT and its partners met and exceeded DBE minority participation goals
Structural enhancements include the use of high performance concrete to provide superior durability. There are also multiple levels of structural redundancy to provide a long-lasting bridge that will be economical to maintain.
A state-of-the-art sensor and monitoring system built into the bridge will allow for easier and more comprehensive monitoring throughout the bridge's lifetime
A comprehensive safety program was implemented throughout all aspects of the design and construction process
In 2009, the replacement project was named one of America's 10 best transportation projects and won the America's Transportation Awards' Grand Prize award.
MnDOT maintains a site with details about the I-35W bridge here.