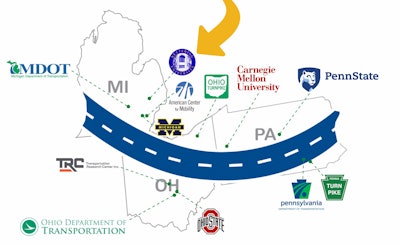 Kettering University is now part of the Smart Belt Coalition, a group formed earlier this year by transportation agencies from Pennsylvania, Ohio and Michigan to focus on automated and connected vehicle initiatives.
"We are honored to participate in the Smart Belt Coalition to help create the future of mobility alongside some of the brightest minds and most creative organizations in the industry," says Kettering University President Robert K. McMahan. "Researchers at Kettering are at the forefront of discovering the technologies, developing the infrastructure, and implementing the programs necessary to play a key role in creating the future of transportation and mobility."
Kettering joins the following members of the coalition:
Pennsylvania: PennDOT, Pennsylvania Turnpike Commission (PTC) and Carnegie Mellon University
Michigan: Michigan Department of Transportation and University of Michigan
Ohio: Ohio Department of Transportation, Ohio Turnpike and Infrastructure Commission, The Ohio State University and Transportation Research Center
The coalition is developing a strategic plan that aims to focus on the following concepts:
Connected and automated applications in work zones, including uniform work-zone scenarios offering consistency for testers as well as technologies offering better information to motorists.
Commercial freight opportunities in testing, including platooning (connecting more than one vehicle) and potential coordination on interstates.
Incident management applications providing better information to and infrastructure for emergency responders and other agencies.
Kettering University also reports it is one of eight universities worldwide that is participating in the Society of Automotive Engineers' (SAE) AutoDrive Challenge international autonomous vehicle competition.