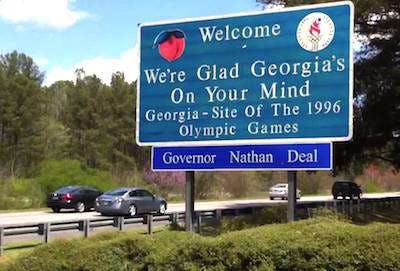 The Georgia Department of Transportation (GDOT) has awarded 24 contracts for transportation projects across the state valued at $85.4 million in its latest round of approvals.
GDOT says 16 of the contracts are for "off-system safety" projects including signing and pavement marking upgrades to at least 475 locations on local roads. The projects, valued at $7 million, are part of GDOT's FY 2017 Off-System Safety Program that aims to provide safety improvements that can reduce the number and severity of crashes on city and county routes.
"Fatalities on Georgia's roads are up 33 percent in the last two years and over a third occur on local roads," says GDOT Commissioner Russell McMurry. "Reducing these fatalities requires a continued investment in safety enhancements. I am pleased that GDOT can assist local governments with funding for these critical projects through our Off-System Safety Program."
The bulk of the project funds in June, $48.4 million, was awarded to Reames and Son Construction in Valdosta, Georgia, for Interstate 75 interchange reconstruction projects. These involve two interchanges along a 5.3-mile stretch of the interstate in Lowndes County. The projected completion date is April 30, 2020.
One interchange is at I-75 and SR 7 and involves widening SR 7 from two lanes to a four-lane divided roadway with concrete median and paved shoulders. It also includes building a new bridge over the interstate and reconstructing the northbound ramps as a conventional diamond interchange.
The other interchange is at I-75 and SR 122 and will include widening 0.7 miles of SR 122, reconstructing the interchange, constructing a new bridge over the interstate and reconstructing the ramps as a conventional diamond interchange.
A $13.5 million contract was awarded to Pittman Construction of Conyers, Georgia, for building the second continuous flow intersection (CFI) in Georgia at the intersection of U.S. 78/SR 10 and SR 124 in Gwinnett County. The intersection will be converted to allow drivers to make left turns before the two roads cross by relocating the left turn movement from the center of the intersection to the side. GDOT says this design reduces the crashes and will ease congestion and travel delay.
The project will include construction of a traffic signal bridge at the intersection and improvements to an adjacent road to create a bypass of the CFI. The project is expected to be completed by Aug. 31, 2019.
Another major contract in the June announced is for $9.5 million for a project in Henry County that includes an extension of two parallel east-west one way streets (one-way pair) from west of the Norfolk Southern Railroad to west of Postmaster Drive; roadways on a new location south of Jonesboro Street and east of Henry Street; construction of a roundabout at the intersection of Jonesboro Road and Doris Street; and installation of three new traffic signals and a pedestrian flashing beacon. Pittman Construction is expected to complete the project by June 30, 2019.
The full list of contracts awarded is available here.