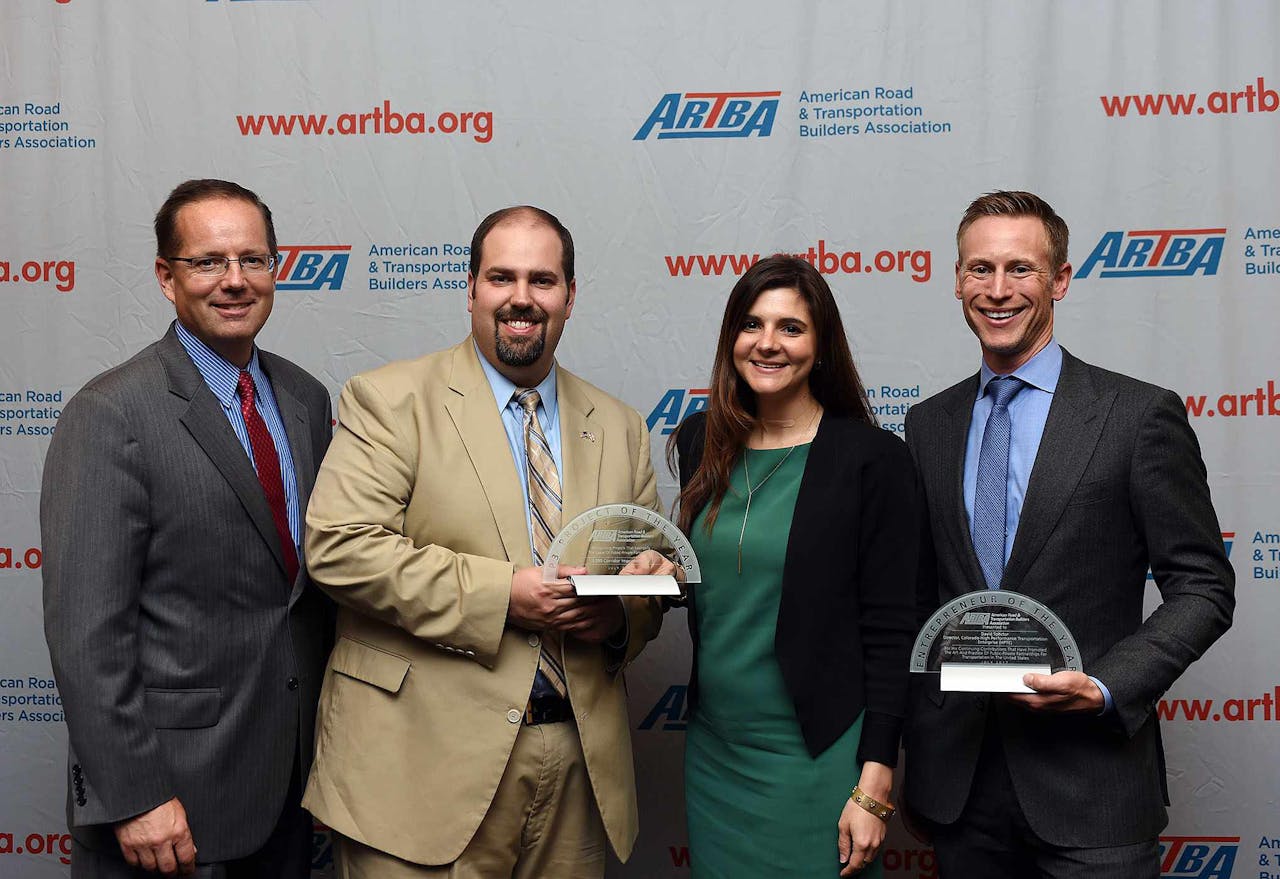 The American Road & Transportation Builders Association (ARTBA) recognized the I-595 Corridor Improvements Project in Florida and David Spector, director of the Colorado High Performance Transportation Enterprise (HPTE) as "models of excellence in innovative transportation financing" during its recent Public Private Partnerships (P3) in Transportation Conference.
Spector was named P3 Entrepreneur of the Year, an award given to an individual who has "made outstanding contributions to the forward progress of P3s in the U.S. transportation industry."
While at the Colorado Department of Transportation's HPTE, ARTBA says Spector has been a fixture in speaker roles at P3 conferences and is considered a resource for other agencies for private financing.
"In the next year, Spector will be leading HPTE's efforts working with academic institutions to educate state and local elected officials, governments considering P3s, and other stakeholders about the realities, myths and implementation of P3s, to help them understand how they can be used for a variety of infrastructure needs," the association says.
His P3-related work includes:
Oversaw the completion of the U.S. 36 Express Lanes P3 project, which ARTBA named 2016 P3 Project of the Year
Is currently in the middle of the procurement process for the Central 70 Project
Led HPTE through several organizational and structural changes, "aligning operations more clearly with CDOT's strategic goals, including the focus of its role as toll operator of Express Lanes, and integrating with other divisions within CDOT"
Refined several business rules, including establishing a PR Procurement Management Manual so that current and future P3 projects will benefit from clear and consistent internal and external processes. "In the process, HPTE has evolved from a start-up P3 delivery organization to an established business which can serve as a model for other agencies as they endeavor to enter or grow their own programs," ARTBA adds.
ARTBA awarded the I-595 Corridor Improvements in Florida with the P3 Project of the Year. The association presents the award each year to a project that "demonstrates the value P3s bring to U.S. transportation development."
The project is Florida's first P3 and largest transportation project. The roadway is part of the state's Strategic Intermodal System that serves the major east-west link in Broward County. The mainline opened in 1989 and I-595 saw "steady increase in traffic volume that led to congestion. To help with the growth, the Florida Department of Transportation (FDOT) and team reconstructed and widening the roadway, updated nine interchanges and added reversible express lanes that are tolled at varying rates.
"The $1.8 billion deal reached financial close in March 2009, also making it the first in the U.S. transportation sector to use an availability payment compensation structure, helping to pave the way for future P3 projects in Florida and the U.S.," ARTBA reports. "The design, build, finance, operate, and maintain (DBFOM) project opened to traffic in March 2014 and epitomizes the benefits of P3s by advancing much needed transportation improvements and allowing private financing to make up the state's funding shortfall that could have delayed work by 20 years or more. The project team included FDOT, RS&H, Nossaman LLP, Interstate 595 Express, Dragados USA, ACS Infrastructure Development and AECOM."