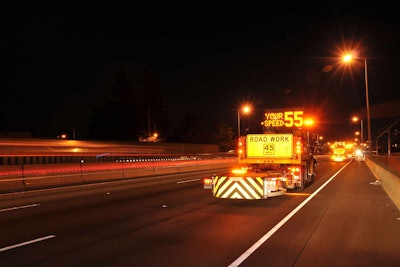 The Oregon Department of Transportation (ODOT) and the Portland Police Bureau began this week using mobile photo radar at night work zones on Interstate 84 to help cut down fatalities and injuries.
ODOT says the radar unit will be placed at work sites at bridges where new RealTime signs will be position. They will be set out on roughly 20 nights through Sept. 30.
When the unit detects speeding it takes one photo as the car approaches and another as it drives away to capture an image of the license plate, much like a traffic light camera. A ticket is sent in the mail to the registered vehicle owner.
ODOT says work zone crashes are a significant problem in the state, with an average of 488 work zone crashes each year between 2011 and 2015. In that same time span there were 13 serious injury crashes and five fatalities each year.
The agency also reports that 66.1 percent of Oregon residents responding to a survey support photo radar for use in work zones.