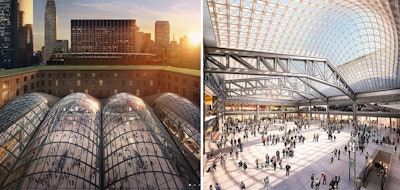 The U.S. Department of Transportation's (USDOT) Build America Bureau (BAB) is providing a $537.1 million Transportation Infrastructure Finance and Innovation Act (TIFIA) loan to the New York State Urban Development Corporation D/B/A Empire State Development (ESD) for the Moynihan Train Hall Redevelopment Project.
The project aims to ease congestion at New York City's Penn Station. Roughly 650,000 passengers pass through the station each workday, making it the busiest passenger transportation facility in the country.
"This TIFIA loan will help transform the James A. Farley Post Office Building in Manhattan to include a modern, state-of-the-art train station, delivering extensive improvements for passengers in easing congestion and delays," says Transportation Secretary Elaine Chao. "This is an important investment in the Northeast Corridor's rail service and the economic vitality of the region."
USDOT reports the project will offer improvements and expansions to help ease congestion and delays and help with future demand for the North East Corridor (NEC) service area and the majority of all NEC rail trips that pass through Penn Station.
The project, the department says, will be the new home of Amtrak and will be the hall for all arrivals and departures for Amtrak passengers in New York City, as well as service as a hub for ticketing and other services for the Metropolitan Transportation Authority's (MTA) Long Island Rail Road service.
The total cost for the project is estimated at $1.85 million, with $1.3 billion in funding coming from the ESD, the Port Authority of New York and New Jersey, MTA, Amtrak and private developers. Construction is already underway and is expected to be complete by December 2020.