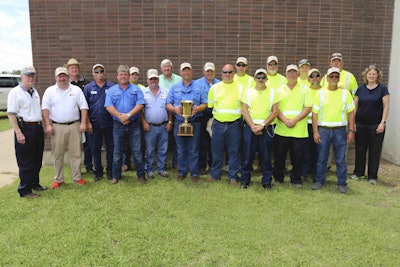 The Mississippi Department of Transportation (MDOT) recently held its statewide Equipment Operators Roadeo in Jackson that featured competitors from its six districts. MDOT says the event focuses on proficiency in knowledge, skills and abilities of its maintenance workforce.
Roadeos also put emphasis on training, the department adds, and looks at how employees "maintain and enhance their daily operating skills while ensuring their duties are being performed as safely as possible."
"The competitors at the Roadeos are the workers the traveling public sees on the side of the road day in and day out," says James Williams, deputy executive director/chief engineer. "By practicing safe equipment operation, our workers not only protect themselves, but also ensure that motorists remain as safe as possible."
Events and winners for the Mississippi statewide completion include:
Single Axle Dump Truck
First place – John Hodge of Newton
Second place – Ellis Akins of Ashland
Third place – Billy Coward of Newton
Tandem Axle Dump Truck
First place – Jeffrey May of Newton
Second place – Mike Pritchett of Monticello
Third place – Scott Horton of Newton
Lowboy
First place – Matthew Thorne of Newton
Second place – Ron Phillips of Hattiesburg
Third place – Terry Buckley of Newton
Backhoe
First place – Thomas Goode of Holly Springs
Second place – Wade Peeples of Batesville
Third place – Melvin Taylor of Flowers
Motor Grader
First place – Simpson Wofford of Houston
Second place – Darrell Tatum of Ripley
Third place – Thomas Malone of Batesville
Tractor and bush hog
First place – Nathan Perkins of Clinton
Second place – Steve Tackitt of Pontotoc
Third place – Vincent Necaise of Saucier
MDOT also awards a team champion at the event, with the year's top team being District 5 headquartered in Newton.
"The Roadeos are a way to make sure MDOT employees maintain their skills and practice safety," says Executive Director Melinda McGrath. "They also allow the MDOT family to come together and enjoy a day of friendly competition while expanding skills, knowledge and abilities to keep the public safe."