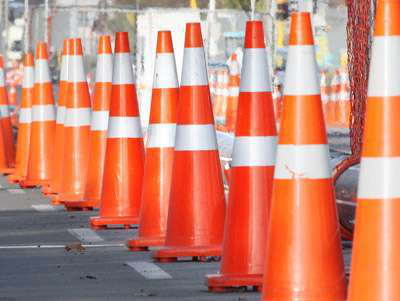 In an update to the Buellton City Council on April 14, Cathy DeGrazia, Granite Construction project manager for a Caltrans' pavement maintenance and sidewalk construction project on Highway 246 in Buellton, Calif., told council members that work is continuing on the project with completion set for August 2017, the Lompoc Record reports. She also told the council that she would be retiring in three weeks and Paul Martinez would be taking over a project manager.
The project consists of 6 miles of paving, more than 800 feet of new decorative sidewalks with conduits, pedestals for new lighting to be installed by the city, and replacement of nonstandard guard rails and dykes, as well as rumble strips. Crews are grinding out 0.20 inches of old asphalt and replacing it with the same thickness of rubberized hot-mix asphalt. The project also includes installation of an accessible pedestrian signal system and 38 curb ramps to meet Americans with Disabilities Act requirements.
"All the ramps will then be measured for compliance, because ADA regulations are fairly strict," DeGrazia told the news agency. "I was the ADA engineer for four years before being the project manager on this job, so I know they're very strict. So we'll be measuring them, and hopefully everything is right, and if not, we'll be digging them out and making whatever repairs are needed to make them compliant."
DeGrazia noted that approximately half of the decorative pavers on the sidewalks from Avenue of Flags to Highway 101 have been completed. She also told council members that crews have paved a test strip about a mile west of the city, and if the results are good, paving will start April 25 with the city portion to be paved in June.
Striping will follow, if it passes Caltrans' approval. Public Works Director Rose Hess told the news agency that the city had three main goals in its proposed striping plan — maximizing bike lane width, making sure it's something Caltrans will accept and be able to maintain, and retaining on-street parking where it's currently located along Highway 246.
According to the news agency, a bike lane will be added along the highway, where possible, with sharrows—street markings that remind motorists and bicyclists that the lane is shared—will be used where the highway is not wide enough to add a bike lane.