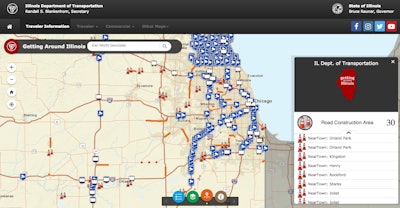 The Illinois Department of Transportation (IDOT) has redesigned GettingAroundIllinois.com to be more mobile-friendly. The site first launched nearly 10 years ago.
"We are very excited to provide this new-and-improved resource for travelers," says Illinois Transportation Secretary Randy Blankenhorn. "GettingAroundIllinois.com is a great place to get important information—from winter road conditions to construction site locations to road or bridge closures—for any trip, any time of the year. The new mobile-friendly format will get travelers the information they need quickly and conveniently."
IDOT enhanced the site by giving users the ability to identify and zoom in on their location, travel route or destination. The previous version, the department says, only displayed a static map with a broad view of an overall location. The new site operates on a cloud-based system to provide less potential system downtime and more real-time data.
The site also includes work zone information across the state through the Road Construction Area layer, which provides a view of where a work zone is located, how long it will be in place and what type of work is ongoing.