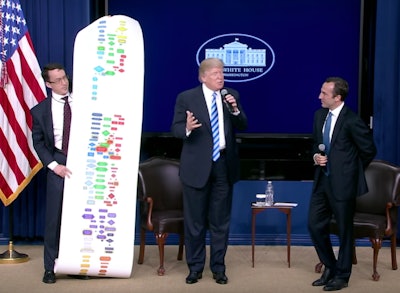 In two separate presentations April 4, President Donald Trump stressed the need for reduced regulatory steps required for infrastructure projects in order to fast track needed repairs to bridges and roads across the country.
Speaking at the CEO Town Hall on Unleashing American Business, Trump revealed a chart his staff created showing the number of approvals and statutes involved in building a highway, a process he said could take from 10 to 20 years.
"You have hundreds and hundreds of permits," Trump said. "Many of them are statutory, where you can't even apply for the second permit until six months go by."
D.J. Gribbin, special assistant to the president for infrastructure policy, who displayed the chart that stretched higher than his own height, said 29 different statures are involved in the process.
"Five different executive orders that all apply to this process," Gribbin said. "This is indicative, so this is not a specific project, but this is the type of process that a government—this is a state government—would have to go through to permit a highway federally. This is just federal, not state regulations."
Trump explained that his administration is trying to cut the timeline for approvals from, for example, 10 years to one year.
"I said can't we make it four months? Can't we do it in four months? And there is a certain logic to that, but we'll be satisfied with the year—but it won't be any more than a year," Trump said.
"So we have to build roads. We have to build highways. We're talking about a very major infrastructure bill of $1 trillion—perhaps even more. And when we have to do—our jobs—I mean, if we say, we're giving to New York City hundreds of millions of dollars to build a road someplace, it doesn't help if they can't start because it's going to take seven and a half years to get the permits. Even to redo a road takes years to get the permits. You know, you have a road that's there and you want to redo it, and you have to get new permits for the kind of asphalt you're using, the kind of concrete you may want to use."
He added that Transportation Secretary Elain Chao would be working with a committee headed by real estate developers Steve Roth and Richard LeFrak aimed at cutting "a lot of red tape" for infrastructure planning. Trump announced his intentions to involve the two businessmen back in January.
"But we don't want to send a billion dollars to New York and find out, five years later, the money was never spent, because we're going to be very strong that it has to be spent on shovels, not on other programs," Trump continued. "But we're going to say, if you don't spend the money—if you don't start—if you have a job that you can't start within 90 days, we're not going to give you the money for it.  Because it doesn't help—doesn't help us. And we're going to be very strong on that. They have to be able to start within 90 days."
Trump also spoke during the 2017 North America's Building Trades Unions National Legislative Conference.