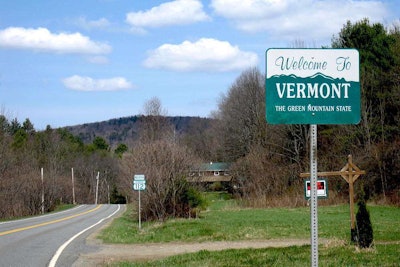 Vermont communities are getting $2.2 million in federal funds for municipal grant projects as part of the Transportation Alternatives Program (TAP) aimed at fostering transportation alternatives projects, such as off-road pedestrian and bicycle facilities.
"Investments in infrastructure enhance commerce, facilitate tourism and travel, and foster small business growth—all of which support our efforts to grow Vermont's economy," says Gov. Phil Scott. "While we are committed to making traditional transportation infrastructure investments, this grant program is important to help fund smaller projects that can have a big impact on local communities and support transportation alternatives like walking and biking."
The complete list of grants is available here.
The TAP committee includes representatives from the Agency of Transportation, the Agency of Natural Resources, the Agency of Commerce and Community Development—including tourism and historic preservation—the Vermont League of Cities and Towns, the Vermont Association of Planning and Development Agencies and members of the Vermont House and Senate.
Better Connections Grant Program
The Vermont Agency of Transportation and the Vermont Agency of Commerce and Community Development have also announced the Better Connections Grant Program winners for projects "that align land use planning and community revitalization efforts with transportation investments."
The programs provides roughly $200,000 in funding each year to help Vermont communities plan for future transportation investments that support economic development.
Grant winners include:
♦ The Town of Brighton's grant will grow the local economy with a plan to improve the streetscape and create more opportunities for residents and tourists to walk, shop and enjoy the scenic beauty of Island Pond. (Joel Cope, Town of Brighton, joeltcope@comcast.net)
♦ The City and Town of St. Albans will develop a plan to improve safety and accessibility along Route 7, strengthening the connection between the downtown and its northern commercial and employment centers, and improving transportation options for the region's most vulnerable. (Carrie Johnson, Town of St. Albans, satownmanager@comcast.net and Chip Sawyer, City of St. Albans, C.Sawyer@stalbansvt.com)
♦ The Town of Windsor will create an action plan to guide downtown commercial and industrial redevelopment, improve housing affordability in surrounding neighborhoods, and explore ideas to reconnect to the Connecticut River – making Windsor a great place to live, work and do business. (Robert Haight, Town of Windsor, robertdhaight@comcast.net)
"Vermonters depend upon their transportation system to provide access to work, school, shopping and other activities. We need to collaborate with communities and coordinate public polices and investments in order to grow our economy and improve quality of life for all Vermonters," says
Transportation Secretary Joe Flynn. "This inter-agency collaboration is doing just that by supporting communities to plan and grow in a way that integrates transportation and land use planning with economic development decision making."
More details on the program are available here..