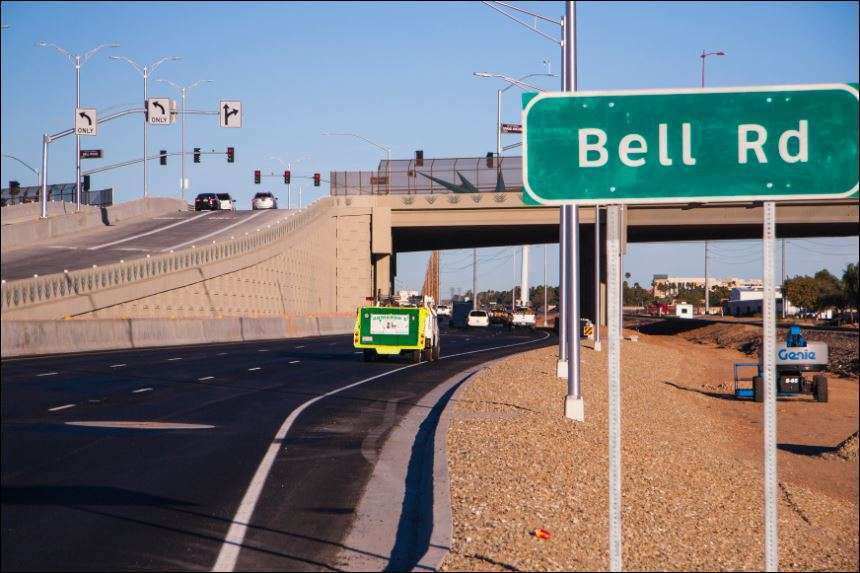 The Arizona Department of Transportation (ADOT) has opened all four ramps at the Grand Avenue (U.S. 60) and Bell Road interchange near Surprise, Arizona. The $41.9 million project was started just over a year ago.
The project is known as a median urban diamond, ADOT reports, that features "connections at the center rather than ramps to the right of Grand Avenue's travel lanes or other possible configurations." This design minimizes the impact on nearby businesses with ADOT not having to purchase as much surrounding property.
"This is about planning ahead, thinking outside the box and keeping promises," says Dallas Hammit, ADOT's state engineer and deputy director for transportation. "The project team did a great job opening the Bell Road bridge in November and now completing the new Grand Avenue ramps before the start of Cactus League play at Surprise Stadium, as we had pledged to do."
ADOT says the new interchange "improves the flow of traffic by replacing the old ground-level intersection that was plagued by long lines and delays, especially when Bell Road drivers needed to cross both Grand Avenue and the parallel BNSF Railway tracks."
"After hearing from residents and the business community, we worked with ADOT to create a shortened project schedule to mitigate the impacts during spring training and last year's holiday shopping season," says Surprise Mayor Sharon Wolcott. "Thanks to a collaborative approach we have achieved those goals. I sincerely appreciate everyone who played a role in making this happen."
The project, which is funded as part of the Maricopa Association of Government's Regional Transportation Plan, could be completed in early March.