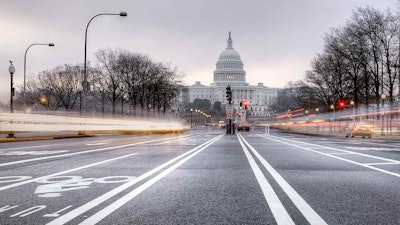 The Washington Post reports president-elect Donald Trump is looking to form a task force for his infrastructure plans once he takes office.
Citing a "person familiar with the initiative," the Washington Post says the individual to lead the task force would not be "Cabinet level" but still would be integral in working with officials from the local to federal level as well as private entities. Top members of the Trump team, such as senior counselor Stephen Bannon and senior advisor Stephen Mill, are reportedly discussing the task force plans.
As the newspaper points out, a task force would potentially perform similar functions as a new transportation secretary. Trump recently nominated former labor secretary Elaine Chao to that position.
The unnamed source, the Washington Post reports, says the task force plans are not yet "concrete," but the head of the group could potentially be a New York business professional or local government official.
The president elect's infrastructure discussions have hinted at up to $1 trillion in spending on transportation projects, with funding derived from a combination of federal spending and private investment options.