The Pacific Northwest Transportation Consortium (PacTrans) has received a $14 million grant over five years from the U.S. Department of Transportation as part of the department's recent University Transportation Centers (UTC) grants program recipients.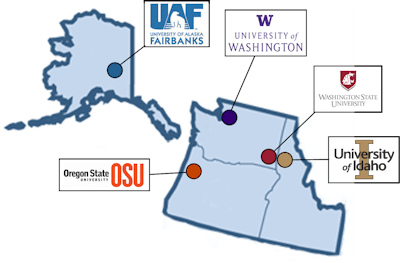 PacTrans is one of 10 regional UTCs in the U.S. and covers Alaska, Idaho, Oregon and Washington. The University of Washington leads the consortium, with partnerships from Boise State University, Gonzaga University, Oregon State University, the University of Alaska Fairbanks, University of Idaho and Washington State University.
The grant, which will be matched by companies as well as local and regional agencies, will be used to study mobility challenges in the region, such as traffic congestion, transit access for people with disabilities, trip-planning tools and rural transportation options.
Research topics that may be studied include wireless sensors for collecting data and to connect traffic systems, integrating autonomous vehicles into traffic operations, strategic freight planning and car sharing for the elderly.
"This exciting new grant will allow us to address broader mobility challenges, of which our region certainly has many," says PacTrans Director Yinhai Wang, a University of Washington professor of civil and environmental engineering. "We're seeing rapid population growth in both Portland and Seattle, but we also have the very rural areas like Alaska, with very few people living in a vast landscape. So the question is: How can we offer transportation mobility to people in very different living environments?"
Previous grants to the consortium were not for as long as the five-year commitment this time, and the proposal was supported by members of Congress from the states involved in the consortium.
"Transportation mobility is one of the great challenges facing Washington State as we seek to remain competitive now and in the future," says Sen. Patty Murray (D-Washington). "This funding will support important advances that will benefit our local communities and the nation as a whole."
"When it comes to transportation problems, I have found that most folks want facts and data to guide decision-making," says Rep. Rick Larsen (D-Washington), a senior member of the U.S. House Committee on Transportation and Infrastructure. "That is why this grant is important – it will help the University of Washington and its PacTrans partners develop smarter transportation solutions that will help drive job growth and keep the economy moving."