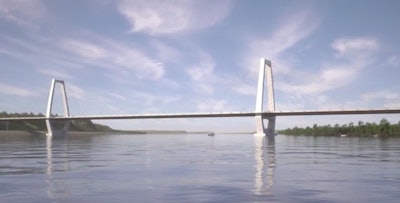 The Institute for Sustainable Infrastructure (ISI) has awarded the Envision Platinum sustainable infrastructure honor to the joint Indiana-Kentucky Ohio River Bridges-East End Crossing (ORB-EEC) project.
"The Envision framework and rating system recognizes sustainable infrastructure across the full range of environmental, social and economic impacts throughout the project's life cycle," ISI states.
The program was created in 2012 via joint effort between ISI and the Zofnass Program for Sustainable Infrastructure at the Harvard University Graduate School of Design. The ORB-EEC project scored "exceptionally well" in the categories of Quality of Life, Leadership and Climate, and Risk. The Envision program looks at the overall impact of an infrastructure project during the rating process, ISI says.
"We are pleased to present the ORB-EEC project with the Envision Platinum award," says ISI president, Bill Bertera. "This project demonstrates multiple state cooperation, and a commitment to sustainability on the part of the entire project team and the communities served."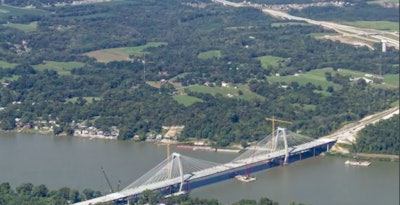 The project is expected to open to traffic in December and aims to help alleviate traffic congestion in the metro Louisville area and improve safety along the roadway and other nearby highways.
It is part of the $2.3 billion Louisville-Southern Indiana Ohio River Bridges Project, which also includes a new Interstate 65 bridge between Louisville and Jeffersonville, Indiana, as well as major highway improvements on both sides of the river.
Parties involved in the project include WVB East End Partners, the public-private partnership (P3) developer; Walsh-VINCI Construction, WVB East End Partners' design-build contractor; and Parsons, the project's general engineering consultant.
"Strong teamwork and collaboration on sustainability aspects were in evidence throughout the project," says Ron Heustis, project manager with the Indiana Department of Transportation. "The innovative partnership between Indiana and Kentucky ensured the project was designed to serve the needs of the entire region today, and for the future."
"The project team worked closely with the community to assess local employment and training needs," says Rob Morphonios, project director for WVB East End Partners. "We implemented an on-the-job training program to bring minorities, women, and disadvantaged persons from 'apprentice status' to a fully-experienced employee. We also partnered with community-based organizations to implement training programs to elevate the skills of the workforce not just for this project, but for future career opportunities in the construction industry."
According to Morphonios, sustainability was considered in all aspects of the project. "It's a tribute to the entire team that we were able to come together, not just to accomplish this large-scale infrastructure project, but to do so using sustainable practices. The Envision Platinum award is a testament to that level of priority."