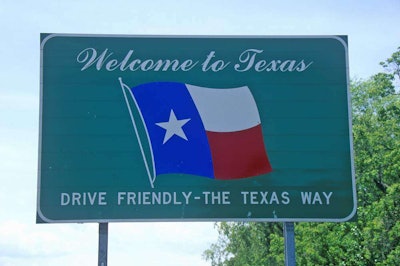 The U.S. Department of Transportation (USDOT) is providing a Transportation Infrastructure Finance and Innovation Act (TIFIA) loan for $285 million to the Texas Transportation Commission to finance expansion of portions of Interstate 35 near Dallas.
The TIFIA loan program is administered by the department's Build America Bureau, which has the purpose of streamlining credit and grant opportunities for transportation projects.
"The bureau helps DOT to meet the needs of America's growing infrastructure challenges and to build a 21st century transportation system," says Transportation Sec. Anthony Foxx. "Thousands of Dallas-area commuters and businesses will benefit from this new project that uses technology solutions to better manage traffic flow into and out of the area."
The project will involve expanding 28 miles of I-35 east between I-635 and U.S. 380, which is an area that serves Denton County and the major Dallas suburbs. It is to be completed in multiple phases, with the first phase receiving the $285 million loan.
Work will include adding a general purpose lane in each direction and two reversible priced lanes, for which prices will change depending on time and traffic flow. Also included in the project will be frontage roads, interchange and ramp updates, as well as a new bridge spanning the adjacent Lake Lewisville.
"By leveraging a loan from the Bureau, more projects like the I-35 east can become viable," says Andrew Right, Acting Director of the Build America Bureau. "We have an open door policy for any transportation project to meet with our team to discuss the federal programs and agreements that could move your project forward."