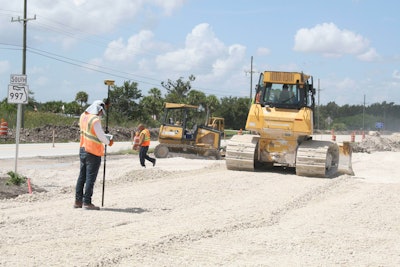 In the period from 2005 to 2011, the 36-mile stretch of Florida's State Road 997 between the city of Homestead and Okeechobee Road to the north, claimed the lives of 28 people—a dozen in 2014 alone. And, in that same time frame, more than 900 others were injured in crashes on the two-lane highway.
Though efforts to widen the west Miami road were held up by a combination of partisan bickering, environmental objections and the Great Recession, the project was eventually approved, with work starting in February 2015. Divided up into three-mile construction segments, Hialeah-based Halley Engineering Contractors, Inc., won two of the first six bids. In its first section, assisted by GNSS-based machine control, the company beat already-tight deadlines by two full months, securing a nice performance-based incentive and setting the stage for even better results on the second segment.
Deadly Alternative
Also known by its street name, Krome Avenue, west Miami's SR 997 has been nicknamed "Killer Krome" and the "Wild Wild West." Its two-lane configuration, coupled with its proximity to a nearby toll road, have made the highway prone to crashes and fatalities, according to Alex Halley, executive vice president of Halley Engineering Contractors.
"The road parallels a section of the Florida Turnpike, which often sees heavy traffic due to normal congestion, accidents, construction and so on," he said. "When the turnpike gets crowded, SR 997 becomes an attractive north-south alternative, particularly for truck traffic. But, because people generally want to pass trucks, the fact that the road has two narrow lanes, no median barrier, and poor lighting, has often led to head-on crashes and deadly results. This expansion was long overdue."
The total scope of the project calls for adding one lane in each direction; incorporating a 40-foot median with guardrail; installing a new drainage system; and adding new lighting, signage, signalization and pavement markings. Because the road crosses over a canal, a pair of new bridges to replace an existing one is also being constructed.
Eye-Openers
Halley Engineering Contractors is a family-owned highway/heavy contracting firm, started in 2012 by Ignacio Halley and his three sons, Alex, Daniel and Michael. Alex
Halley said they had all worked together for an area asphalt contractor before deciding to form the company.
"The time just seemed right for us to go off on our own," he said. "We were fortunate to have gotten work of all sizes right from the start, and today we have close to 100 employees. But projects like this one are what we strive for and, since doing the first section, we've really opened some eyes to what we can do."
Because SR 997 runs directly through a section of the Everglades, the challenges to a simple road widening are compounded, starting with establishing a solid base for the asphalt.
"This area is all swamp, so we had to excavate down, removing all the muck, until we hit cap rock," said Halley. "Once we got a large enough area exposed, we'd start bringing in lime rock and placing it in one-foot lifts. So the thickness of the lime rock varies from 4 to 6 feet, depending on how far down we had to go to hit that cap rock. When we are in full swing, we are putting down about 600 to 700 loads a day — that's about 15,000 to 16,000 tons of rock."
Feel the Berm
Anxious to keep pace with technology, Halley Engineering had converted all its survey-related activity to GNSS in mid-2015 with the purchase of a Topcon HiPer SR network rover, an FC-5000 data collector and a subscription to L-Net, a GNSS network—all through Lengemann of Florida. However, with the project window starting to close—and the performance incentives looking like they might be in jeopardy—Halley once again talked to Henry Miranda, Lengemann's southeast Florida sales representative, about a GNSS-based machine control solution for their dozer.
"In addition to the roadway, we also had to construct 4- to 5-foot berms on each side of the road—to keep the Everglades from reclaiming the area—as well as the swale adjacent to the berm," said Halley. "It was obvious this was going to be a stake-intensive, time-consuming effort. However, I had seen some of my competition use Topcon machine control to do similar berms and was impressed, both with the quality of the finished product and how quickly they were getting them done. We purchased the 3D-MC2 system for our Cat D5K and finished three miles of berms in about two weeks, allowing us to beat the 18-month project deadline by about two months."
In setting Halley up with the new solution, Lengemann's Miranda recommended using twin antennas on the D5K as the best way to deal with creation of the swales.
"When you work on a swale with a six-way blade, as they were, you want to be able to follow the alignment with the edge of the blade without having to put in any stakes. And a twin antenna knows the rotation of the blade from front to back much better
than a single antenna does. That proved to be a game-changer for them. Their pace was so much quicker that they were well into their second three-mile segment when other companies on the project were still doing their first."
On to Phase Two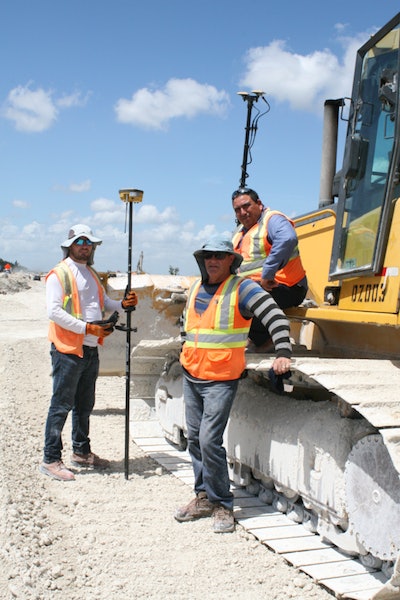 Work on Halley Engineering's second segment of SR 997 started in April 2016. As if to test the degree to which they can challenge themselves, the job offers a one-year completion window and involves laying down much more material.
"While we moved about 400,000 cubic yards on the first segment, this one will be almost double that," said Halley. "Because this portion was shaping up to be so much more material-intensive, we talked to Lengemann about having a second, larger dozer, a John Deere 750J, wired for use of the Topcon 3D-MC2 and switching the system between the two machines as needed. The schedule is so demanding that as fast as the trucks can dump the rock, the operator spreads it out and gets it to rough grade. If we were blue-topping, we would never be able to keep that kind of pace."
Using the machine control solution, Halley's operator gets material to about .2 above grade then brings in a subcontractor with a trimmer to bring it to finished grade. Halley is aware that he could get similar results using a GNSS-equipped motor grader. However, he feels the trimmer is faster and, by nature of its operation, brings more fines to the surface, enhancing the smoothness of the roadbed.
"The important thing for us, though, is the dozer's ability to quickly and accurately hold grade," he added. "We can set the system for 2-inches above grade and not worry about having to put excess material off to the side because we are grading too high. Over the course of three miles if we were just an inch high, it would cost us hundreds of thousands of dollars. This eliminates that concern altogether."
First Time's a Charm
Despite the impressive results it affords, Halley said the machine control technology was easy to master. That sentiment was borne out by one of his operators, Jorge Luis Corrales, who said that, despite having no previous GPS experience, he was able to be working with it almost immediately and was comfortable with it by the end of the first day. Halley echoed that feeling.
"I don't get on a dozer very often anymore," he said. "But the first day Henry set up the 3D-MC2 system, I asked him to lead me through it. In no time, I was able to use it and was impressed with what it—and I—could do. We now have two operators who are very proficient with the system and, in fact, actually find it to be fun. I'd say that's definitely user-friendly."
Modular Solution
The size of the job site — three miles from end to end — did not present any challenges for the base station recommended by Lengemann. Concerned about both coverage and the risk of equipment theft from the site, Miranda suggested a modular base setup consisting of a Topcon GPS+ receiver/antenna, and a 35-watt ADL Vantage Pro radio modem.
"With a modular approach, the only components exposed are a GNSS antenna and a radio antenna. The "brains" of the operation—in this case, the receiver—can be tucked away in a secure enclosure, with proper ventilation and a continuous power source," he said. "The risk of anything being stolen is virtually eliminated. The recommendation to go with the UHF radio for broadcasting RTK signals from the base is based on my 12+ years' experience with customers on road projects like this. The radio gives the customer coverage within a six-mile radius from the base. So it is technically possible to do a 12-mile job with just one base/UHF configuration set in the middle of the job."