The Oregon Department of Transportation (ODOT) says in its 2016 Bridge Condition Report bridge preservation needs and replacement projects in the state over the next 20 years would cost $435 million per year. Just keeping the bridges in their current condition would cost $240 million per year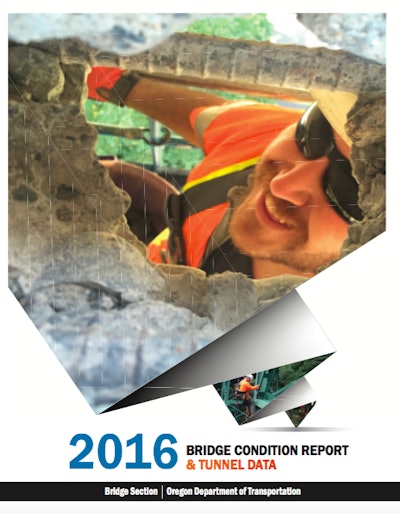 The agency's annual report provides an overview of bridge conditions across the state using the National Bridge Inventory and its own data supplied to the Federal Highway Administration.
For the first time in the report, ODOT included research indicating the impact of a "sizable" earthquake on the state's bridge system. The report shows that nearly 75 percent of the state's bridges were built prior to "modern seismic design specifications."
ODOT says more than half of the state's bridges were built before 1970 and 57 percent will "reach the end of their design lives" in the next four years.
"With increased maintenance and repair, most of ODOT's bridges can have a longer service life—but this does not hold true for a large number of bridges built during the Interstate-era of the 1950s and 1960s that are still in use today," the agency says. "Many of those bridges were designed for loads smaller than allowed by state law since the mid-1980s, and preserving them is not cost-effective."
ODOT reports roughly 900 state highway bridges will need to be repaired or replaced in the next 20 years, but funding limitations will only allow it to replace one-third of that total.
"Deferred maintenance will eventually require the bridges ODOT can't repair to be weight restricted, meaning certain trucks have to take longer routes or break up heavy loads onto multiple trucks, increasing time and costs," the agency says. "These impacts are extremely harmful to Oregon as a heavily trade-dependent state."
The report, along with supporting documentation, is available here.