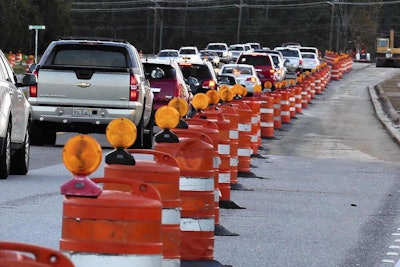 California will receive a $293.1 million transportation funding bonus for meeting its 2016 fiscal year deadlines for federally funded projects. The money will be split between the California Department of Transportation (Caltrans) and local agencies.
The bonus money comes from a pool created from federal transportation funds states do not spend before federal deadlines. The pool this year reached $2.8 billion and California received the largest share of any state, with New York coming in second at $155.8 million. Florida was third with $150 million, followed by Illinois with $133.4 million, Pennsylvania with $123.4 million and Georgia with $122.2 million. The only state not receiving bonus funds is Hawaii.
"Caltrans has been rewarded—yet again—for its on-time and responsible use of federal funding, launching new construction projects prior to federal deadlines," says Caltrans Director Malcolm Dougherty. "These additional funds will help Caltrans and local transportation agencies to continue to invest in transportation across the state. This money will be put to work immediately supporting jobs and making improvements that will benefit Californians for decades to come."
The agency will get roughly $185 million while local transportation agencies could share up to $108 million. The funds are required by September 27 to be prioritized for projects that meet federal deadlines.
More details on the redistribution of federal transportation funds, including the full list of states' amounts, is available here.