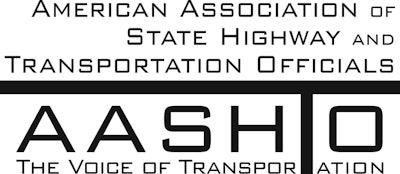 The American Association of State Highway and Transportation Officials (AASHTO) President Paul Trombino, director of the Iowa Department of Transportation, has named two state departments of transportation (DOT) veterans to its Standing Committee on Research (SCOR).
The SCOR supports the association and the transportation community by "delivering strategic, high-quality research results while addressing development, technology transfer and implementation." AASHTO says membership of the committee is made up of regional representatives including two "senior leaders" and two members from each association region of the Research Advisory Committee (RAC).
Peggi Knight, director of the Iowa DOT's Office of Research and Analytics, fills the Region 3 RAC member slot on the SCR. She's served on the RAC since 2012.
John Milton is the director of transportation systems safety and quality assurance for the Washington State DOT. He takes the Region 4 position.
Arizona DOT Director John Halikowski is chairman of the SCOR. The full responsibilities of the committee include:
Encourage and assist other AASHTO committees and subcommittees to identify research needs, define research emphasis areas, and utilize research findings.
Solicit research problem statements from the Member Departments, AASHTO committees, and the Federal Highway Administration (FHWA); screen the submittals; prioritize them; and recommend annual programs of NCHRP for consideration by AASHTO's Board of Directors.
Monitor the Transportation Research Board's (TRB) performance as program manager for the NCHRP.
Monitor the NCHRP and make appropriate recommendations and reports to AASHTO.
Review, observe, and encourage the effective use of research funding, and recommend appropriate funding levels.
Serve as a forum, coordinating committee, and advocate for highway and other transportation research on behalf of AASHTO and its Member Departments.
Review, monitor, and foster coordination of the various national programs of highway and other transportation research.
Study and foster the role of industry in highway and other transportation research.
More details on AASHTO research committees are available here.