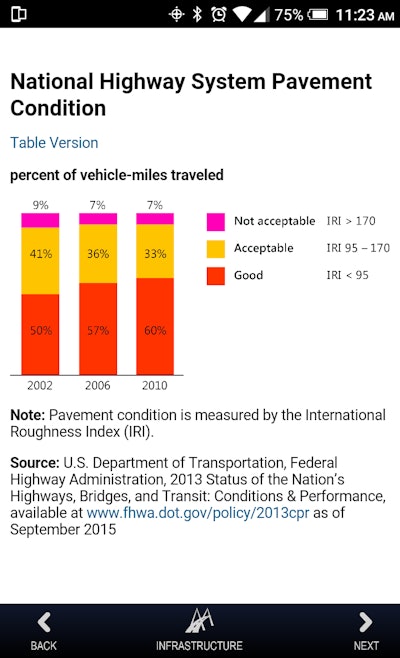 The U.S. Department of Transportation's (USDOT) Bureau of Transportation Statistics has released an app for the Pocket Guide to Transportation 2016 to allow even quicker access to its database of transportation statistics.
"All seven sections—Infrastructure, Moving People, Moving Goods, Performance, Economy, Safety and Environment—plus a new Major Trends section can be found on the app," says BTS Director Patricia S. Hu.
She adds this is the first of several innovations the agency plans to release in the coming months and years. "There will be a new focus on the use of technology to deliver the most recent transportation statistics in new and different ways," Hu adds.
On the horizon is a dashboard showing the most recent transportation "indicators" the agency collects, in addition to trends and time-period comparisons.
Links to the app for both the iTunes App Store for iPhone and iPad and the Google Play store for Android devices, as well as the PDF of the Pocket Guide to Transportation 2016, are available here.