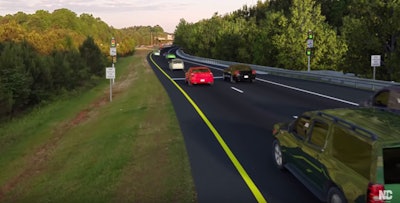 The North Carolina Department of Transportation is planning to add its first on-ramp signals to portions of westbound Interstate 540 in the north Raleigh area.
"While this is the first time we are using this technology in North Carolina, on-ramp signals are used effectively in several other states and extensively throughout Europe," said Kevin Lacy, state traffic engineer. "The signal spaces out the number of cars trying to merge on the freeway at once, which makes merging smoother. That translates to better traffic flow and more reliable times on the freeway, as well as improved safety and fewer crashes."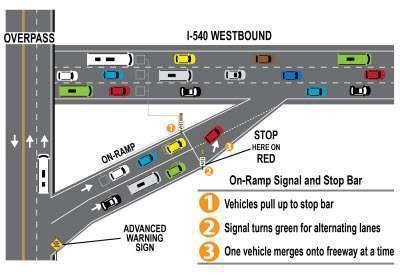 These signals are being used in at least 20 other states and operate much like a traffic signal, with red and green signals. The purpose is to allow only one or two vehicles to merge at a time to reduce competition space when merging.
They will operate primarily during peak traffic times, including the traditional two commute times in the day, but NCDOT says they will be activated if needed to control traffic flow during construction, wrecks or special events.
The agency plans to install the signals at four locations initially, at:
Falls of Neuse Road (Exit 14)
Six Forks Road (Exit 11)
Creedmoor Road (Exit 9)
Leesville Road (Exit 7)
NCDOT says it expects to award the installation contract this fall and have the signals operational by the spring. As part of an effort to educate the public the agency has scheduled a public meeting for September 29 at the Abbotts Creek Community Center in Raleigh.
The following Q&A has been provided by NCDOT to provide answers to some of the most common questions asked about on-ramp signals.
What's the difference between an on-ramp signal and a ramp meter?

An on-ramp signal and a ramp meter are the same thing. North Carolina uses the term on-ramp signal to describe the technology, but federal guidelines require that advanced-warning signs use the term ramp meter.

Do I have to obey the on-ramp signal?

Yes, violating an on-ramp signal can result in being ticketed by a law enforcement officer.

How can vehicles merge safely into traffic from a full stop at a signal?

Each signaled ramp is long enough for a vehicle to accelerate to a safe speed before merging into freeway traffic.

How do you keep traffic from backing up onto other streets?

On-ramp signals respond to real-time traffic conditions to balance traffic flow. If vehicles start to back up on the ramp, a sensor will activate the signal to adjust and quickly clear the backup. Traffic cameras will also feed live images to the department's traffic operations center, allowing traffic specialists to manually adjust the signals, if necessary.