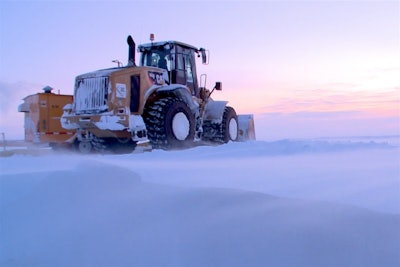 Most state and local departments of transportations begin their roadwork seasons in the spring for a reason. By then, the freezing temperatures of winter are gone and the possibility of any delays is mostly eliminated.
But for Alaska Interstate Construction (AIC), waiting for spring isn't really an option.
The company's work is chronicled by Science Channel's "Alaska Mega Machines," a show which follows crews through the dead of winter while highlighting the heavy equipment they depend upon to get the job done.
The show's first season finale airs tonight and Science shared with the Equipment World staff a bit of footage from the episode in advance.
The episode follows AIC as the company's crews race to finish a 26-mile stretch of Ice Road near Deadhorse, a town on the northern tip of Alaska, that will allow a 3-million-pound mobile oil rig travel safely to its destination.
However, a monstrous storm descends upon the crews, piling snow 6 feet high along the road and badly limiting visibility. The crew also faces the challenge of cutting and sinking a section of frozen sea in order to reinforce the road.
You can see a clip from the show below. It airs on Science Channel Wednesdays at 10 p.m., Eastern.