Volvo Construction Equipment debuted their new highway-class P7110B (tracked) and P7170B (wheeled) highway-class pavers at the 2016 World of Asphalt in Nashville, highlighting the machines' new Tier 4 final engines, 360-degree operator visibility and multiple screen options.
The Volvo D8J, 8-liter engine features continuous passive regeneration that offers more than 12 hours of run time without the need to refuel, and a 5-percent boost in fuel efficiency compared to previous pavers.
"The P7110B and P7170B build upon more than 75 years of Blaw-Knox and ABG paving technologies combined with the proven Tier 4 Final Volvo engine," says John Mooney, product manager for pavers. "Engine development is a core strength for Volvo that we leverage across the entire Volvo Group, and the D8J is another great example of improving performance while also complying with EPA regulation."
Mooney adds the pavers were tested in the field placing more than 200,000 tons of material and were able to drop the fuel usage per placed ton compared to any previous Volvo paver model.
To provide the touted 360-degree view, Volvo reworked the engine to keep the hood height and profile low while allowing easier serviceability. Engineers also increased the length of the top cover and added a removable side cover.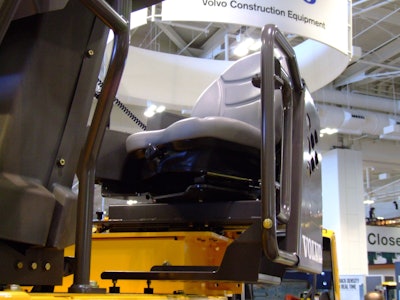 Additional features benefiting the operator include side air vents to help reduce heat build up, a higher seat (1.5 inches higher), two control consoles (left or right), rotating and tilting consoles that extend past the edge of the paver and new optional LED work lights.
For improved head-of-material control without bolt-on extensions, Volvo incorporated two-stage, 42-inch hydraulic tunnels that measure longer than competitive models. Factory-installed screed options include the Omni 318, Omnio 1000 or Ultimat 200 and dealer-installed Wedgelock options.
The tow point indicators were updated for better accuracy and improved visibility, as it can be read from the paver operator station or from the screen operator's position.
The P7110B and P7170B also are available, as a factory-installed option, with the company's CareTrack telematics system. The machines will be manufactured at the Volvo's Shippensburg, Pennsylvania facility and will be available in the third quarter of this year.