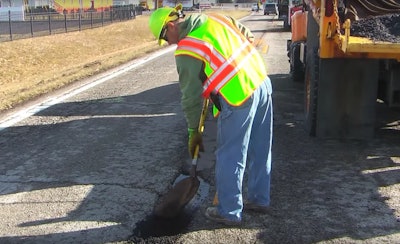 The Missouri Department of Transportation (MoDOT) has launched an "enhanced pothole repair initiative" for March aimed at repairing an asphalt pothole "as quickly as possible of it being reported."
"We want to get asphalt in the hole as quickly as possible. If you report it in the morning, our goal is to repair it before you drive the same road the next business day," MoDOT State Maintenance Engineer Becky Allmeroth says. "We know our aging infrastructure is prone to potholes this time of year, and we are making efforts to keep our roads as safe and smooth as possible."
To do this, MoDOT is opening up several means of reporting to motorists:
March is a primary pothole repair month for MoDOT, with the majority of its $15 million expenditure on the work being done then. This makes sense as March can provide warm temperatures during the day and freezing conditions at night. That, along with additional moisture in the form of rain and snow, creates the perfect thaw and refreeze conditions to create potholes.
"On any given day in March, it would not be unusual to have 300 pothole patching crews on our state roadways," Allmeroth says.