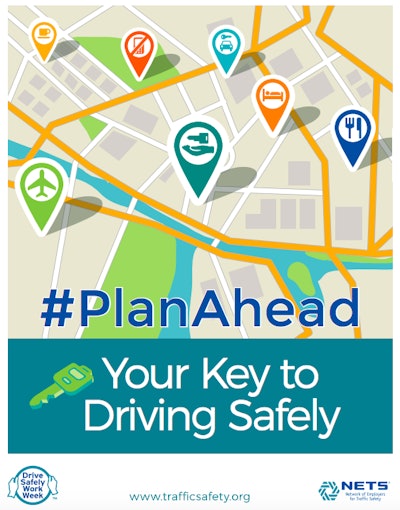 The annual Drive Safely Work Week (DSWW), now in its 19th year, focuses on planning as a part of safe driving practices, with the theme of Plan Ahead: Your Key to Driving Safely. DSWW is observed October 5-9.
The Network of Employers for Traffic Safety (NETS) sponsors DSWW and counts several large entities as part of its board, including Coca-Cola, Abbott, Monsanto, Liberty Mutual, Nationwide, UPS, the National Highway Traffic Safety Administration (NHTSA) and the National Institute for Occupational Safety and Health (NIOSH).
NETS has identified five areas of focus within the planning theme for DSWW. These include:
Remember to take time to plan the journey — even those trips that feel routine.
"On the job or off, proper trip planning can greatly improve safety, driver efficiency and eliminate distractions—all things that help to minimize delays and most importantly, risks," NETS says.
Prepare for driving situations that take you into unfamiliar areas.
"Advance planning is important when you get out of your normal routine or comfort zone—be it driving in a new location, unfamiliar conditions or in a different vehicle," NETS states. "From a management perspective, it's important to consider that once employees rent vehicles to travel on business, whether or not they are considered fleet drivers, they are driving on behalf of the company and all of the same risks, safety and liability factors apply."
Take precautions to ensure you're driving with a clear head.
"Any number of things can cloud a driver's attention, from alcohol, medications and fatigue to emotional stress and physical distractions," NETS comments. "This year's campaign approaches physical distractions from the angle of practicing advance planning and preparation in order to devote full attention to the drive."
Learn to navigate the changes we all experience as we age and how they may affect driving.
"Driving is a both a physical and mental task that requires flexibility and focus. There are things that can be done at every age to help keep driving skills sharp for years to come," NETS says.
Think through ways to plan ahead for driving situations that involve family members.
"Many employees may have or soon will have a teen driver or an aging parent/grandparent on the road—or both," NETS adds. "Included are things to think about and tools to help along the way whether employees will be handing over the keys, encouraging someone to hang up the keys or even planning a road trip."