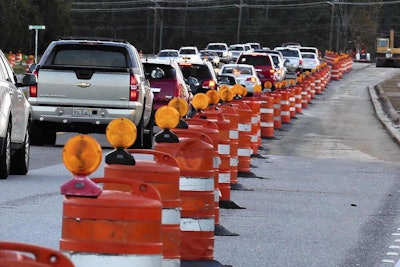 The Michigan Department of Transportation (MDOT) is looking to switch to fluorescent construction barrels from the reflected barrels used currently in order to increase visibility in work zones in dim light situations, a move that could increase the cost of the barrels by as much as $27 each, according to a report by the Detroit Free Press.
The move, which is under consideration in a MDOT pilot program, is controversial to some because just nine years ago MDOT, along with most other states, starting removing existing lights from the barrels. Some manufacturers say if visibility is such an issue, then the lights shouldn't have been removed in the first place.
According to a MDOT spokesman, the lights were adding $24 to the cost of each barrel. "Our research conclusions are consistent with numerous studies that there is no difference in safety between construction barrels with lights and reflective sheeted barrels without lights," MDOT's Tim Fischer said in the report.
The reason the fluorescent barrels would be more expensive is the density of the plastic used. The fluorescent sheeting needs a higher density plastic to keep from "bubbling and rippling" in temperature extremes. However, that plastic is more brittle according to one Michigan-based supplier, so if struck they would break easily.
MDOT says switching to the new barrels would in four years cost $2 million, but suppliers estimated that figure would be closer to $10 million.