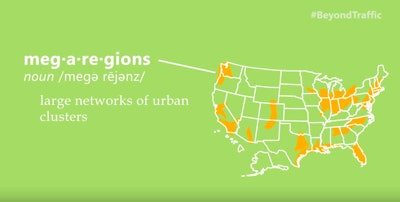 The U.S. Department of Transportation (USDOT) has planned 11 forums across the country this fall to discuss the department's Beyond Traffic report to be published next year. Beyond Traffic started as an effort to "spark a national dialogue" about the needs and goals for the U.S. transportation system for the future.
The first "Megaregion" forum was held Sept. 18 in Sacramento. The next is being held today in Phoenix.
"Everyone is a transportation expert of their own neighborhoods; we know our own cars, roads, bridges, transit lines and rail lines better than anyone else," Transportation Secretary Anthony Foxx said. "So we are going to the 11 regions in this country that will experience the most explosive growth to hear directly from people in those areas about their transportation challenges and to listen to their ideas to solve them."
The 11 Megaregion forum dates and sites:
Sept. 18, Sacramento, California
Sept. 21, Phoenix, Arizona
Sept. 29, Long Beach, California
Sept. 30, Austin, Texas
Oct. 2, Orlando, Florida
Oct. 6, Seattle, Washington
Oct. 14, Boston, Massachusetts
Oct. 16, New Orleans, Louisiana
Oct. 21, Indianapolis, Indiana
Oct. 23, Charleston, South Carolina
Oct. 28, Denver, Colorado
USDOT says most of the population growth it expects by 2045 as part of the Beyond Traffic plan is in these 11 metropolitan areas.
"Holding the forums in these areas will allow citizens, elected officials, Metropolitan Planning Organization directors, transportation industry partners, business owners and community leaders to bring their region-specific experience to discussions on the challenges identified in the report and potential solutions to those challenges," says.