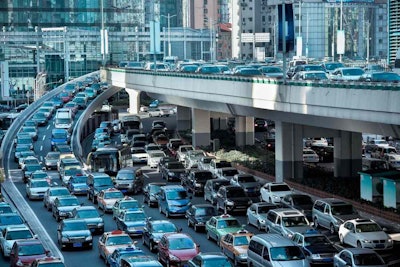 Telecommunication companies and automakers have joined forces in requesting the U.S. Department of Transportation (USDOT) and the Federal Communications Commission (FCC) conduct thorough interference testing of devices using a short-range wireless spectrum for connected vehicle applications.
The groups include the Alliance of Automobile Manufacturers, Association of Global Automakers, Intelsat, National Cable & Telecommunications Association, Qualcomm and SES.
These connected applications are commonly referred to as vehicle-to-vehicle (V2V) and vehicle-to-infrastructure (V2I) communications in what is called Dedicated Short Range Communications (DSRC). The spectrum in question is the 5.850- 5.925 GHz spectrum band, usually referenced as 5.9 GHz. USDOT's Intelligent Transportation Systems Joint Program Office has been conducting V2V and V2I testing for some time.
The telecoms and automakers sent a letter September 9 to Transportation Secretary Anthony Foxx, FCC Chairman Tom Wheeler and Commerce Secretary Penny Pritzker outlining their desire for the three departments to work together in facilitating DSRC testing to for potential "harmful interference". The FCC is considering opening up the DSRC spectrum to "unlicensed technologies such as Wi-Fi" as long as the technologies don't cause "harmful interference".
The groups want the FCC to guide the testing process to make sure enough data is collected to determine next steps in allocating use rights in the 5.9 GHz spectrum and measures for avoiding interference. They suggest pulling information f rom the DOT, Commerce Department, satellite industry, intelligent transportation systems (ITS) industry, automobile industry, telecommunications industry and Wi-Fi industry.
The DOT, the groups say, should oversee the development of DSRC technology, safety testing for vehicles and capability testing for the spectrum. The groups also want all of the testing that doesn't reveal trade secrets to be made public, and to be completed by Dec. 31, 2016.
"We are committed to finding the best path forward to protect the development and deployment of advanced automotive safety systems while also considering the need for additional unlicensed spectrum to meet the increasing demand for wireless broadband Internet services," the groups stated in their letter. "There is broad support from interested parties . . . for conducting tests that are fairly administered and can determine whether various sharing proposals do or do not cause harmful interference to incumbents, including primary incumbent satellite services operating in the 5.9 GHz band."
Members of the Senate Committee on Commerce, Science and Transportation, John Thune (R-South Dakota), Marco Rubio (R-Florida) and Cory Booker (D-New Jersey), submitted a nearly identical letter to Foxx, Wheeler and Pritzker on Sept.9 outlining their request for thorough DSRC interference testing.