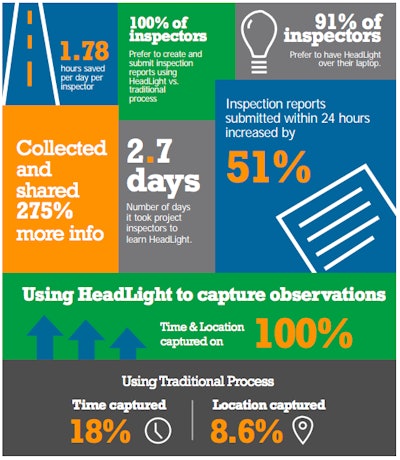 The National Center for Asphalt Technology (NCAT) will be using Pavia Systems' HeadLight project inspection software in the center's latest cycle of Pavement Test Tack research.
HeadLight, a software-as-a-service (SaaS) inspection platform, compiles real-time, direct input from project inspectors on the job and is designed "exclusively for road-owning government agencies to gain easier, more effective and less-costly ways" for in-the-field project inspections.
"This is the 15th year of accelerated pavement testing and the sixth Pavement Test Track cycle," NCAT Assistant Director and Test Track Manager Dr. R. Buzz Powell said. "With our largest group of sponsors ever, we were looking for better ways to give them a window into the construction process."
Sixteen state transportation agencies, as well as the Federal Highway Administration, are participating in the 2015-2018 NCAT test cycle.
"The work that comes out of the test track helps the industry continue to understand and improve pavements," said Pavia CEO and co-founder George White, "and we are proud to be able to support that mission by providing access to HeadLight during the construction of the new track sections."