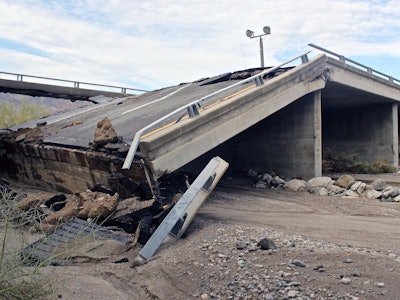 The Federal Highway Administration (FHWA) has provided immediately $2 million in emergency relief funds for repairs to the Interstate 10 Tex Wash Bridge near Desert Center, California, that collapsed July 19 after heavy rains and flash flooding resulting from Hurricane Dolores hit the area.
"About 20,000 drivers use this bridge each day, traveling between Arizona and California," said Transportation Secretary Anthony Foxx. " It is a critical piece of infrastructure for the people in both states, and DOT is committed to doing everything we can to help the area rebuild quickly and safely."
The California Department of Transportation (Caltrans) has yet to provide an estimate of the cost for repairing the bridge. Engineers from FHWA and Caltrans are investigating both the eastbound, which collapsed, and westbound spans.
Caltrans crews have been beefing up the westbound portion of the bridge, which began July 24, being used to re-route traffic from the eastbound portion of I-10 in the area roughly 48 miles from the Arizona boarder. Prior to this, Caltrans had been diverting eastbound traffic to SH-86 in Coachella to Interstate 8.
"Emergency relief funding will make immediate repairs possible throughout the area and allow this interstate to open again," said Acting FHWA Administrator Gregory Nadeau. "We want to ensure that everyone in southern California has access to safe roads and safe bridges, so these resources will help speed repairs and ensure that travel can return to normal as soon as possible."